Faction Description:

Arda, how my heart burns as i see it wither, for my life itself is entwined with the fabric of its foundations, laid before in the yore of ages. And since before the sun was hewn from the heavenly mantle, we have fought and died for it. And through countless years we have seen all our valor and forlorn deeds be wrested into the endless dusk we now abide. Our works and labors twisted to malice - utterly corrupted. Why must what was fair be made dark? The hills and forests once gleaming in the gentle sun, scorched now in dreaded wastes under its golden glare!

They say immortality is our gift, but truly it is our curse. Forced to watch through passing eons the unwavering decay of greed. Though we have lived through the ages, what now is our labor? Gondolin, City of Twelve Houses now lies in rubble beneath the Sundering Sea. And When Gondolin fell, its survivors fled to Eregion, but where now is Eregion? Heaped and strewn in wild wastes on the western foothills of the Misty Mountains. Proud Kingdom of the Noldor, now little more then a bereft encampment of highwaymen and bandits! And we few who escaped are here, forced to hide in this valley, singing songs of fair days little remembered, waiting till the dawning of final night. Do you see now, the vanity of our labors? Do you now understand the sorrowful mourning of our heats? Night will come, and when it does, there will be no dawn, no dew upon the emerald fields, nor silver mists on the crystal streams, only a dead silence, the echo-less cry of endless night.

Though...though how i have forgotten! How they still shine life into our ancient hearts! Yes friend, when night comes the stars unveil, highest and fairest jewels of Ea, enthroned, reflected, em-brazened on the mystifying tapestry of the heavens! Oh what a treasure Eru has given us! For though night may dawn, the stars are an early herald, a distant and beckoning signal that light will once again crest the horizon. Now it feels as though the light of the stars is kindled a fresh in my heart, for verily we are the Eldar, the people of the Stars, and stars hold no fear of night. Their pearl banners ever illuiminating though all shadows be about them. Now, here in the forgotten north must we Eldar be as the stars, a guide for the weary traveler, and beacon of hope for the lost. Yes, there is work a foot, deeds to be done, legends yet untold still lie ahead! Now is my blood ablaze, with the eternal fire, Elbereth, Lady of the Stars be my guide in these dark days! For night looms, and the lords call, "to arms, to arms peope of the Noldor!" Great deeds await you! For not un-tried will we greet Fingolfin and Faenor in the halls of Mandos! For there we shall sing and remember above all the deeds of the Noldor these last acts of courage, forlorn bulwarks beset against the oncoming darkness! Rise, rise to the hour ye sons of Gil-Galad, the time of your fulfillment draws! Not alone will we leave men, surrounded and besieged on all fronts! For a thousand times would i die to the steel of Morgul ere i see Imladris in flames, or the Pearl Towers cast down! Nay, if thus be the future, it is not one i can abide! For with hewn helm, and tattered shield, cloven horn and broken sword would i still hold the barricades of Elbereth against our foes!

No power hath Sauron that can extinguish the fire of the Eleni that burns within our immortal heart. If night is to be our end, then we shall be as the stars, and blaze in the midst! As they have in past wars, his legions will crumble to the fury of the Eldar, his beasts and monsters cower for their caves and dungeons when beset of our battle cries! Now alas brave people, mighty first-born, destiny calls, Valinor beckons but for burning in my heart my ears grow deaf, and silver shores must await their honored guests! For a higher calling now have they,in past they awaited refugees and weary travelers, born swiftly from ruin and darkness, but now shall their shores await the horns of heroes, banners proudly displayed in victory in the end of strife. For this calling now, the welcome of faithful servants, I bid you true Elves, sons of the mighty, waylay darkness, pay it no heed, but follow me now once more to battle! For at last the end of our role is upon us, our part nearly played, yet we shall make a grand finally, a tale, sung for a thousand years on the feast halls of the Valor!
Roster: (Campaign and Multiplayer)
Már-liyúmë i anda ehtë -Elven Longspears-
(Medium Spear Infantry)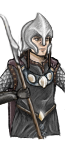 These swift and agile warriors can be a terror to both cavalry and footmen alike. For the spear is a sacred and ancient weapon of the Noldor, it is carried by elves of great skill. For this precious weapon was wielded also by their High King, Gil Galad. And so, in these brave warriors, though it be long broken, yet lives on the Spirit of Aeglos, long may it dismay the spawn of Morgoth!
Yondor i Tulkas (Sons of Tulkas)
(Medium Melee Infantry)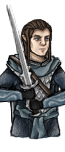 Forsaking the heavy armor of the Noldor, those faithful to Tulkas trust in their speed and strength for protection. These warriors are capable of terrifying ambushes. They are elves armed with massive swords well capable of cutting through thick armor. Yet their swards are far dwarfed by their fearless spirits. For this, the Faithful provide the Noldorian general with swift and punishing fighters, undying reflections of the great Valar they praise!
Már-liyúmë i Noldor -Elven Light Archers-
(Light Missile Infantry)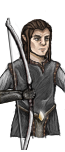 Arrows shot by elves seldom miss their target for the eyes of elves see many things that the eyes of men cannot, including the links within chain mail. Even levied elves can bring enormous accuracy to the field, with their keen longbows and far seeing eyes. And the fact that these elves lack armor only increases their ability to aim.
Telcontari i Quendi (Imladris Rangers)
(Medium Missile Infantry)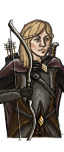 Ever Watching patrols of Eriador, the rangers of the elves are always ready to bring a swift and unseen death to unwelcome guests in their lands. They use only what armor they need for short melee combat, for they trust mainly in their skills with the bow to rout the enemy. For truly what foe will stand against barrages of unseen arrows flying from trees, shot by the best marksmen left on Middle Earth?
Lore Masters of Rivendell
(Light Sepcial Infantry)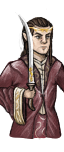 Elves of deep study, and learning, they know all the songs and tales from the many ages of Middle Earth. These passionate warriors bring the full power of these ancient verses against their enemies. They forsake armor, for the armor of their songs is strong enough for them. For hymns of power sung from ancient tongues bring a strength seldom seen in the latter days, and terror unknown to their enemies.
Roqueni i Noldor -Noldorian Horsemen-
(Heavy Melee Cavalry)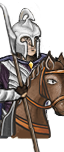 The elves share a special bond with horses, for theirs are the swiftest and the most loyal. Armed in the light but ornate armor of the Noldor and bearing a mighty lace, rider and steed fight together as they trample under foot the enemies of the Noldor.
Telcontari i Noldor -Noldorian Rangers-
(Heavy Missile Infantry)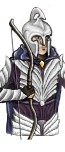 The heavy rangers of Imladris are a force of untold power. While most rangers forsake heavy protection, these elves bear armor made for swift movement. Its flowing leather creases enable the archer to move with ease as he bends his bow to the avenging of kin! Whilst these patrol no shadows go unseen and no foe escapes.
Heruin va Luva (Lords of the Bow) -Imladris Noble Bowmen
(Heavy Missile Infantry)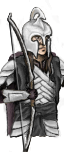 The archers of the Noldor are nigh indomitable. Their excellent armor accompanied by their amazing skill with the bow enables these ancient warriors to overcome nearly any foe at range. These expert archers however are also no strangers to the sword, and when out of ammo they will more then happily take to the front lines with their other Noldorian companions.
Herur i Ranyalohtari (Imladris Noble Rangers) Elladan and Ellrohir Bodyguards
(Heavy Missile Cavalry)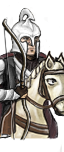 Led by the sons of Elrond, the finest of Imladris' rangers ride upon swift steeds, their accuracy and speed make them excellent skirmishers, while their armor and skill makes them excellent fighting cavalry. These two skills combined with the power of the elves makes these warriors an excellent, well rounded company of soldiers.
Aranduri (King's servants) -Elrond's Bodyguards
(Very Heavy Pike Infantry)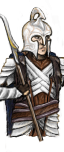 Amongst the finest of defensive warriors, the Pike-Guards of Imladris can hold a line against nearly any opponent. Their strong armor and long spears combined with their individual battle experience makes these warriors a great force to be reckoned with. Their prowess being so mighty has attained them a spot among the personal guard of King Elrond, Lord of the Last Homely House. The strength in their hearts will long ward any assault upon it's fair lands!
Calim et Avathar (Light out of the darkness) -Glorfindel's Bodyguards
(Super Heavy Melee Cavalry)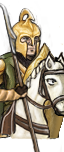 Once strong sons of mighty Elven lords, who fell in defense of the Hidden City, now sent back, ten fold the terrible and mighty in wrath and power, a light blazing in the midst of shadows. They bear the heraldy of the House of the Golden flower upon their ancient armor, and their shields and lances reflect the shinning sun as they ride forth in the end of day! True knights of the first-born, chosen by Glorfindel for their skill and valor. With the light of Elbereth within their hearts these men would follow their captain even to the tower Barad Dur itself!