Greeting! I'm Lee Yun-Seok, Creator of
YGGDRASIL STUDIO
.
This news to be written as of May 14, 2015.
Our game, Discouraged Workers has been Greenlit on May 09, 2015.
It is the 63rd day from the start date of Steam Greenlight, March 7.
We tried Greenlight with the unofficial demo, it began to upvote of 28%. We continue to update it, and it has been greenlit by the Steam community. Thank you for my voters, we will do our best for our players.

And Discouraged Workers has been fully approved by the Desura, it has been Pre-load process!
It took quite a long time to get approved. Because the game demo, it was a problem with several spelling and grammar mistakes in the game, for the translation of English.
But we did not give up. We fix it, and it was approved.
So, Discouraged Workers has been Pre-load on the Desura. And that day, we got a record 'Popular Games #17' on Desura!
And yesterday, I submitted demo on steam. I had a problem with Mac build(Invalid AppID), but I solved it and built a depot. Finally, Discouraged Workers Demo is available on Steam! It supports Win / Mac / Linux+SteamOS!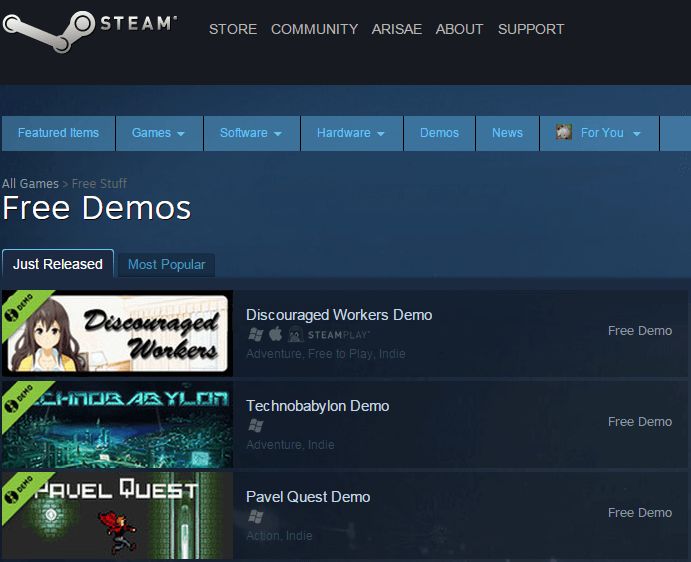 Yeah, Discouraged Workers Demo has been released on Steam! I hope you play it on steam and join to our group(currently only visible to customers). The group provides a seven avatar.
And we has been approved by the IndieGameStand. Discouraged Workers will also be released on IndieGameStand.
The Demo will be updated V1.1.0 on May 16(PM 08:00, UTC+9), And I will finish the work on V1.1.5 in other distribution platforms. But the Steam and Game Jolt, I will update Demo V1.2.0. It supports Steam Achievements and Badges, Emoticons, Trading Cards, Workshop. And the Game Jolt update, It will support Trophy(Achievements) using the Game Jolt Trophy for Python.

// Did you interesting on our news? Hope you enjoyed it, and if so, please play my game demo on Steam and give a feedback for us. We will reward all of you with a better game.