I have just released my first update on Xbox Lives Indie Games service and a decent amount has been added to the game.
My first release was just a chance for people to see the art, how it moves, and get a basic understanding of the style of gameplay that will be available when the game is finished.
This time I have added in more art (though still waiting on permission for the music, so the game is still without sound), changed some of the existing art, opened up the beginning of the tech tree (a topic for my next Dev Blog entry - Expand Gameplay : Construct, Build and Upgrade) and the station menu (still really rough, thats why there are no pictures of it yet). Hopefully this time I will get more people playing it and giving me early feedback. So please, if you are a creators club member, try it out, let me know what you think.
I recently added the ability to display the details text of my cards in a larger area at the bottom of the screen. Part of this was because I had feedback telling me that the description text might be too hard to read on a small tv, and partly because I wanted to put my new dialog text box code to use.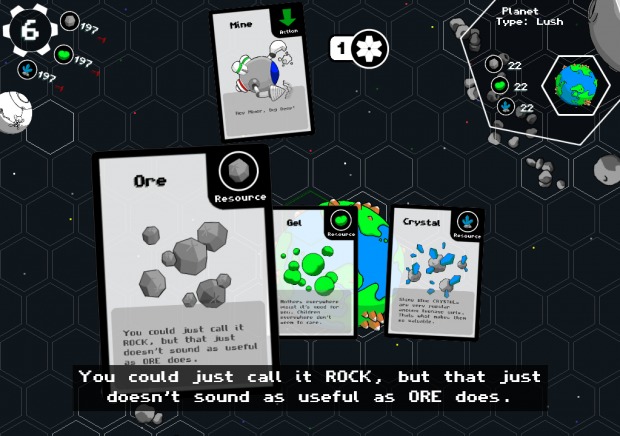 Because... at the top of my to do list is the games introduction and tutorial. Being an arcade style game, it is crucial I get these two things right.
The games premise is unique enough that most players won't know what they are supposed to do right away, so I am going to have to do something to explain, in simple terms, what they are supposed to do, and what their motivation for doing it is. Taking too long can turn a player off of your game, and especially for an indie game, getting positive word of mouth is very important to the long term success of the game, and even the developer... so, no pressure.
I am thinking about using the games attract mode to explain in brief the story and premise of the game, and introduce the tutorial (which will be completely optional) by means of character dialog.
This will give me a chance to expand the universe of small galaxy some, and leave hooks for the future games I am already planning. I'll be sure to let you know how that goes.
Thats it from this update... but I want to leave you with a question. Should I invite people who don't have an xbox live creators club membership to play test my game? Its just a thought I had... one that would require a lot of work on my part... but please let me know what you think. Do you want to play a strategy game that isn't complete?
Cheers,
fidgetwidget