Hello everyone and please accept my warm welcome in to the dried world of Blasted Road Terror! It was a long way till the game finaly reached this stage, and as you can imagine, i am bit nervous right now. I took a road straight through uncharted teritories with this game as its my first project thats not a simple scrolling shmup or top down shooter and lot of my experience does not apply here. Thats why i absolutely cant guess the outcome of this release and its quite possible you ll tell me: "Dude, it sux, you just wasted eight months of your life." and thats why im releasing this "ALPHA concept test" as i dont want to hear exactly the same, just a year later.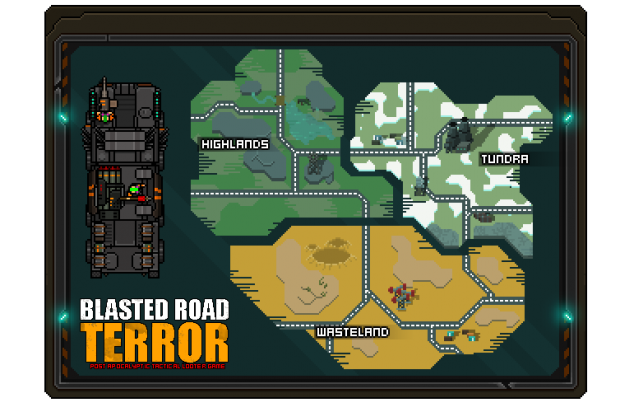 Content of this release
This alpha package offers core of the game, most of the base facilities are working(well in the end i think only tinkerers station is not working right now) and survival, escort, assasination and patrol missions are aviable for wasteland teritory. Vehicle park contains 3 interceptors, one marauder and one light attack vehicle. There is at least one weapon of each class and type and several variants of bumpers, suspension and ornaments to further enhance and customize your vehicles. Yes, its a bit limited, but enough for purposes of this release, to let me know if the game concept is enjoyable or complete crap. To find out just click the download button below and enjoy the ride.
What to expect in near future?
Well, complete and detailed project road map will follow in next update here on indieDB, but without writing any "point" list, current priorities are: More vehicle variety, as i want to have at least two other marauders and attack vehicles, before we ll move any further. Next priority is long-term and will follow me through entire development process and possibly even beyond the full release point - to add more items as current selection of weapons feels limited and does not represent the feel i would love the game to have.
My second big concern is the game UI, while i am mostly fine with main base interface for now and only thing i am ashamed off is the base upgrade screen, combat ui is completely different story and will need complete overhaul as soon as possible. Thats why i am asking you: " Please, be patient with it" :-)
After these will be handled, i can finaly add highlands and tundra missions, along with zone unique sets of enemies and challenges. And after that stuff like more missions, story missions, story and more things that ll give running missions some purpose can be added, but in this case we are talking about sometime mid/late summer.
Lost within the game?
I understand game is somehow harder to pick up than usual platformer or shooter and as ingame tutorial is very brief for now, i ve recorded about half hour long video showing you the path from fresh save till first succesfull patrol mission. And once there, you should be able to continue on your own.
Sure there is much more i would like to say, but i suspect no one is interested in chewing through wall of text and thats why we sohould end right here. Cant wait for your feedback and looking forward for next time!
With regards
Tryzna