Hello! I'm the creator of Vivid, LucasMaxBros (LMB for short, or just Lucas will do). As of the current moment this project is 3 years old and it's been quite the ride. But there are many more obstacles up ahead. The only one working on this project is me. Art, programming, designing, etc. All except the audio has been my work, and thanks to the feedback of others.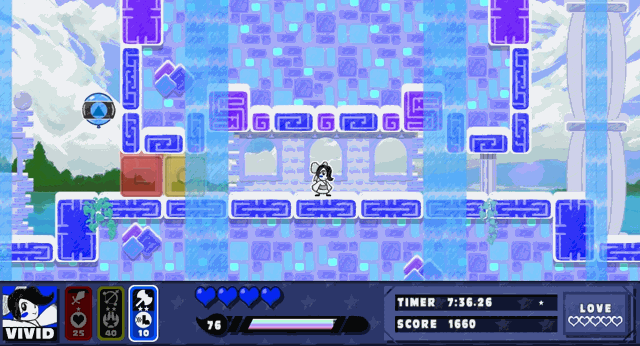 Vivid's doing idle animations while in Azure Aqueduct
We only have a demo at this point along with a lot of planned out levels and bosses. The problem however is completing this game. It's going to take a fair share of money in order to finish it. New hardware needs to be replaced, composer needs to be paid to continue (Andrew Nyte is his name and you should hire him! He's great!), and more.
So we plan on doing a Kickstarter in the near future to help with this. Right now, the current funding goal in order to finish the project sits around $6000 USD. Of course, that's just finishing the game on PC, no localization's, ports, or the likes. If there's enough support though, stretch goals can lead to that and extra content.
I am confident that with a well timed campaign and finding the right crowd to aim at, we can make the goal. Even so, I want as many people to be aware of this project as possible. That way, more people are likely to let everyone else know the game exists when the KS starts. I'm trying to be cautious considering I've never done a KS nor have a large following to help back me up. But that's part of the struggle of being an indie dev!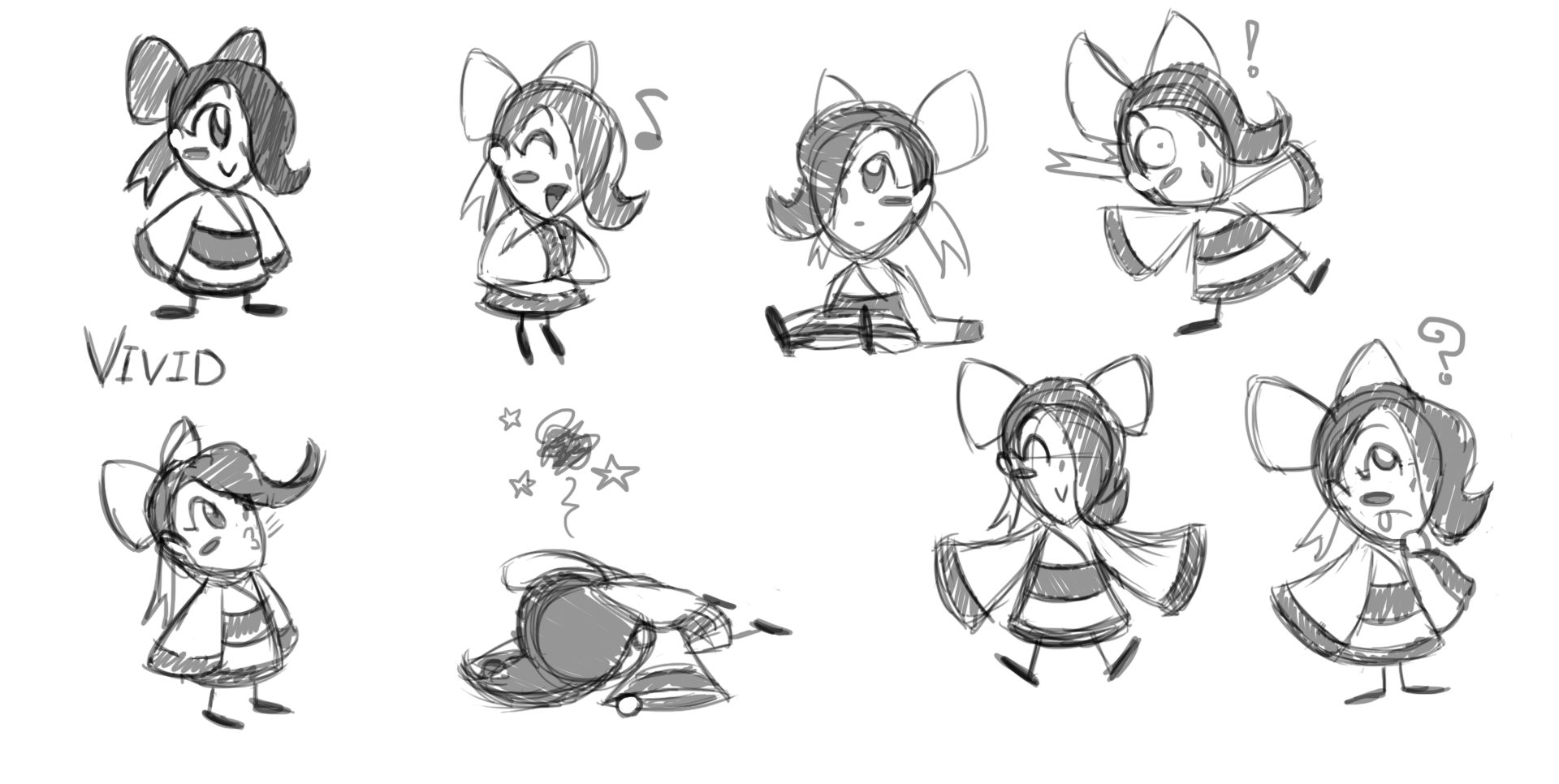 Various Vivid Doodles
We ask that if you think the project looks promising to keep tabs. In case you're worried or curious about a few things, I'll give a few details about what the full game will have to offer:
$20 USD price tag
Over 5 Story Modes to complete
2 Main Playable Characters (Vivid and Spirit)
Over 12 Weapons between them
At least 30 Challenge Stages to play
Over 12+ Bosses
A hand full Shoot-Em Up Stages
Any and all DLC will be free!
Excellent to Speed Run
If you're interested in the project and want to support it, here are some other places to look into:
Twitter.com

Spirit, the other Main Playable Character
We won't be doing the KS until we feel it's the right time to do it. Most of the campaign has been planned out but still has some work before we can even start it. And of course if you haven't tried the demo, now's the perfect time!
Thanks and have a good day!