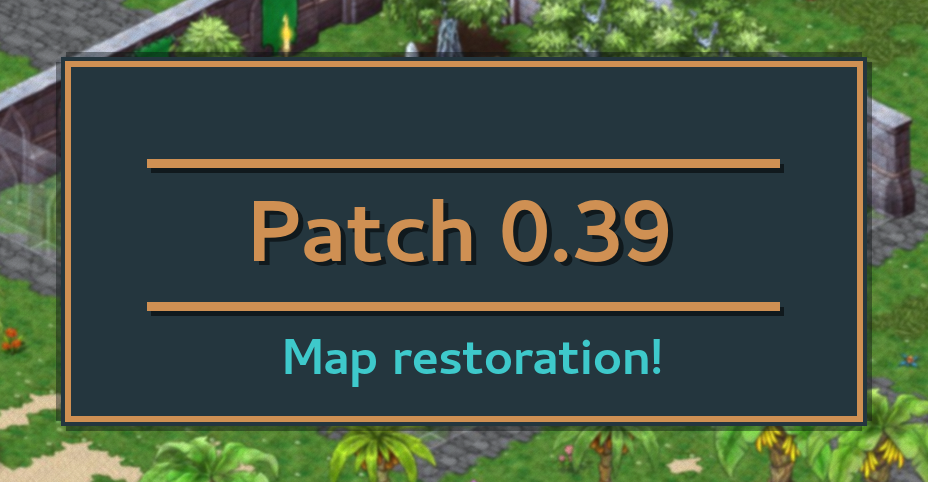 Map restoration
---
We've made it possible to restore the map to its initial condition. So far, restoration will work for the surface only. The map will be cleared up gradually, without touching the claim areas.
NB: If you'd like to keep a road outside claim without change, you should place a Milepost in it.
---
Instances:
New instance for Cursed Village has been added. Levels for any instance are advisory, not mandatory.
Experience, gold and trophy rates have changed in instances.

Rebalancing:
- Bleeding effect will now adequately penetrate armor.
- Weapon will be better scaled with quality, up to 30% instead of 20%.
- De and Inspiration buffs have been reinforced. Absorption corresponds to 20%/35% with/without Inspiration and applies to magic damage, too.
- Inspiration effect piled up with Nya effect has increased its coverage.
- Experience bonus for each team member has increased from 20% to 50%.
- Experience for monsters has been rebalanced. Maximum rise is provided for Wyvern,
Preved medved, Abu, Omsk, Prince of darkness.
- E.g., you'll get maximum Experience for Preved medved: 120.000 for solo murder or 360.000 -for team murder (team consisting of 5 players).
- Death will decrease LP by 10% instead fo 50%.

Other changes:
- New items have been added: Coniferous magic wand and Leafy magic wand. You can use them to terraform the surface, particularly to transform land tiles to forest tiles.
- Potions cabinets have become larger.
- If a player kills another player in his claim, the karma will not change.
- As you fire a distant weapon, you'll see an icon next to the target name.
- Broken items will be displayed in a different way (in case of Durability reduction): as you point at the item, it will look red (instead of a red circle).
- Haystack and chicken nest may be moved without a crowbar.
- Destruction of old items is now active for underground levels and spawn is active for other locations.
- There are new NPC prices for nails, rims and wind walk scrolls. Their number has increased, too.
*Error that appeared in blank rotation has been fixed.
*Error that prevented award of certain achievements has been removed.
*Bug fixed: it's now prohibited to place and build items in the outer space.
*Error that prevented avatar update after hairstyle change has been removed.