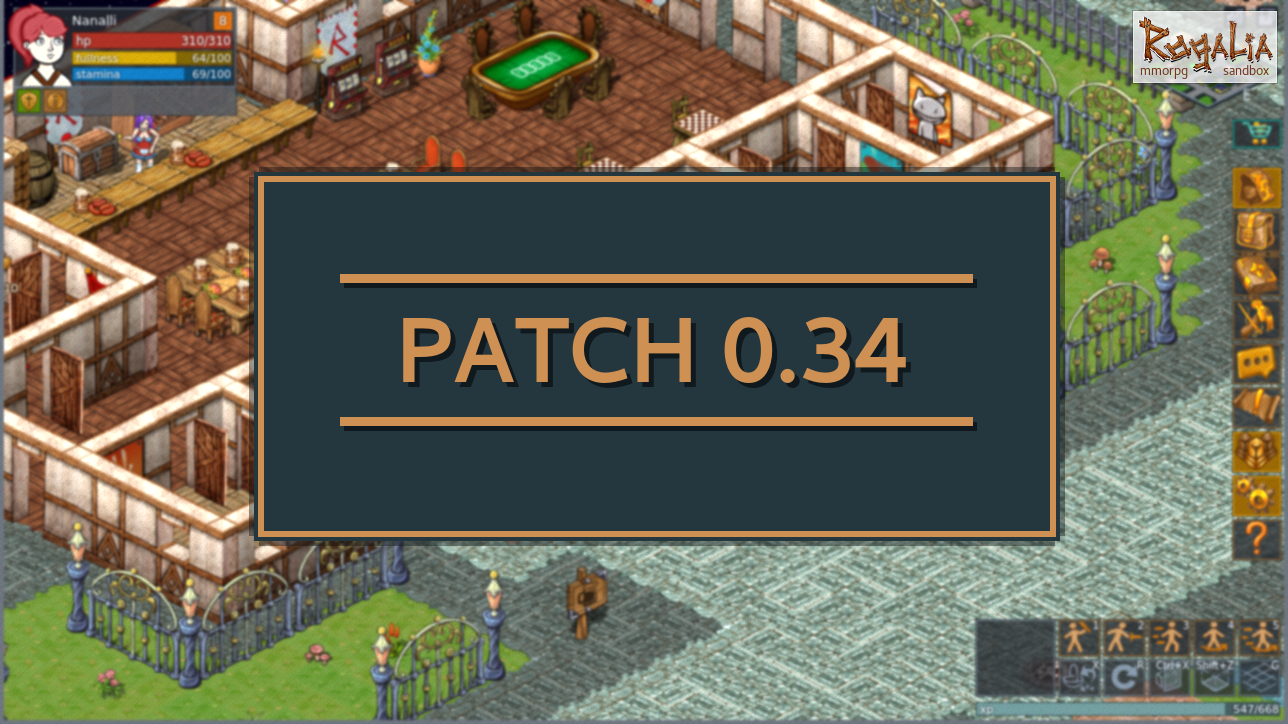 Runes now teleport you directly to your ally
That's what you need:
1. Rune book
2. Runes related to your ally players
3. Party with desired ally

First, craft a rune book.
Next, buy a rune from NPC Boris and make a Teleportation Rune. Give it to the player you want to teleport to.

Next step, that player has to relate this Teleportation Rune to themselves and give it back to you.

If you have a Rune related to a desired ally in your book, you can hit RMB->Teleportation on it and pick a player to move to. Teleportation will take 15 seconds to apply.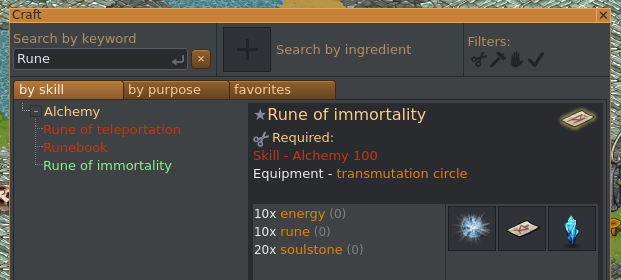 New item: Amulet of Immortality
If you die having this amulet on, you won't lose anything but the amulet.
Some parts of amulet will remain on your body. So, your murderer can loot these parts from your corpse.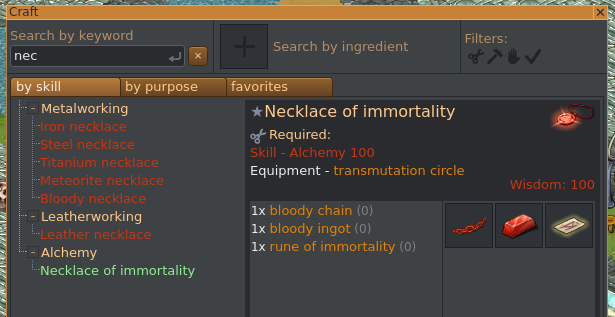 Our biggest thanks to the players who help to make this game better!
- Portuguese (Brazil) translations added.
- Japanese Windows client now displays native font.
- Japanese translations updated.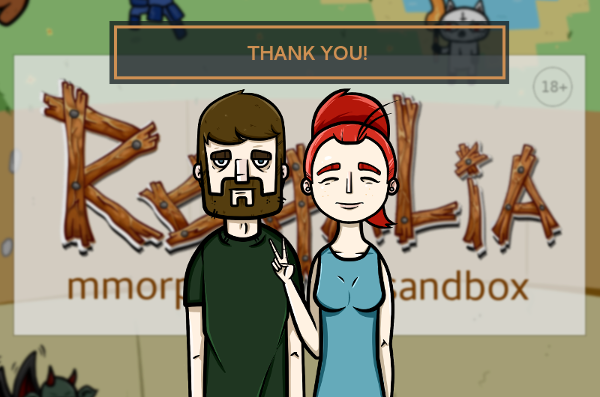 Periodical damage from Tincture of Rage and Tincture of Berserk significantly reduced
Player damage and buff duration enlarged. Tincture of Rage recipe is now easier.



Shields
Now you can hold a shield in both hands. Shields have fair block chances.



Axes
Axes require 7 ingots instead of 4.
Copper axes and better now work faster.
Damage and level requirements for axes now closer to a real weapon values.



Slow mechanics
Any debuffs affecting character's speed cannot reduce it lower than 10.
If you get another slow debuff, the game will compare old debuff duration and value to the new ones. Debuffs which are less strong than that you already have will be ignored.
Update priority: 1 - slow value, 2 - duration.



Mushroom trip changes
Mushroom trip gives +20 to speed instead of +35.
Raw mushroom gives +35 to speed instead of +70.
Mushroom effects duration is now at least 2x longer than before.



Scrolls
Spells won't damage your party.
Ice Scroll damage and duration is reduced.
Inferno Scroll duration reduced to 2 seconds.
Circle of Fire Scroll damage is now 4 times greater than before.



Monsters
Monsters AI is improved. Now, it's more difficult to hit them.
Monsters underground will chase you for 1 minute. So, it will take a minute or more to run away from it.
Boss monsters will teleport to a random location from time to time. Boss cannot teleport when you fight it.
Soulstones drop chance is now 6x larger than before.
3rd underground level now contains rare, significantly dangerous and very rich monsters. Don't even try to kill it solo.


Other updates:
- You can now pick a look for that items which have a several looks. Click a picture in a recipe.
- Character movement is now improved. If character collides with something, they move to the side.
- Party leader now has a marker.
- Instances now support parties. First, party leader must move inside the instance. Next, other party players must pick this instance from Diego's list. After that, party will teleport to the instance.
- Combat was improved. Now, instead of target circle, more precise target segment is displayed. If your target collides this segment, the segment will change its color.
- NPCs open a dialog with them. NPCs interaction buttons displayed in the bottom of the dialog.
- You can set markers for the containers.
- AOE spells damage won't affect your allies.
- Landscape gardening speed is now equal to sand/dirt dig speed.
Now you can fire ahead.
- Precise positioning with Shift is updated. Now it displays an item frame.
- Incorrect display of building area is fixed.
- A horse won't be a target for automatic target pick.
- You have to stay on claim to participate the duel on Arena.
- Combat Elo-rating formula is changed.
- Traps will not work on their creator and friends. Trap damage is enlarged.
- Dynamite requires small transmutation circle instead of large one.
- Small transmutation circle durability value is 70.
- Trees context menu has "Harvest all" option.
- Containers and NPCs interaction bug is fixed.
- Bug that affects Information dialog for distant items is fixed.
- Bug that affects unpaid claim durability is fixed.


New graphics
- New ores!
- New heads on peaks!
- Severed heads!
- New Guardian and Wiseman statues.
- New flower pots.
- Posters.
- Various bumpers.
- New red and white wall banners.
- New underground entrances.
---