- In settings, Fast render option improved which resulted in performance increase by up to 20% (fps).
- All snowdrifts have melted.
- Wide action bar is back.
- Ore veins disappear as time goes by. This way they will now update their location.
- New icon added to pin/unpin chat in the lower left corner.
- For prospector and frying pan, durability bar and 'Equip' added.
- You may not break branches and boughs in other's claims.
- In instances, you can now use AoE scrolls.
- Context menu and tool tips no longer move beyond screen.
- New option in settings: it will change Enter key function if a blank message is sent in chat.
- Outdated options removed from settings.
- Esc key logic changed: if cursor is in play area - remove target, otherwise - close current play window.
- In settings, the option to paint whole claim area readjusted.

- Bug that caused other character's claim to protect from PVP removed. PVP protection is active in your character's and you friends' claim and in the city.
- Bug that didn't let you construct a training dummy removed. Recipe simplified. Dummy HP increased.
- Error corrected: there were no requirements to use scrolls. Alchemy skill will be required (similar to gun use requirements).
- Bug that prevented you from filling small liquid containers from big ones removed.
- Error corrected: after death on arena, character will now resurrect at arena entrance.
- Bug removed: a client-side error appeared when "Inspect" function was active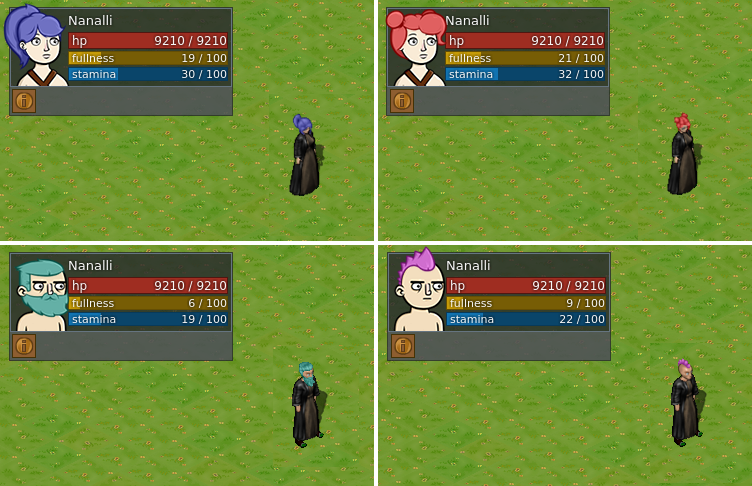 - Character's hairstyle and hair color now displayed in avatar.
- New avatars added for bosses.
- Redrawn images for birch, apple and fir trees, coconut and banana palm trees, their plants at all growth stages, and all items you can get from trees, such as tree log, stub, bark, bough, branch, stick and twig.