Hey all, we have decided to take a break from the Sin Design Evolution pieces this week to release the finalized version of the Common Angel. We took back all your feedback, added some tweaks and came up with the official angel enemy.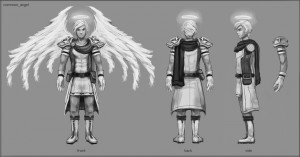 The 360 view of our common angel.
Tobias also finished up the weapon designs for the Angels.
Question: Do you guys like the modern look to the Medieval-style weapons for the angels or would you rather see a couple of Mach 10s? Leave all comments here.
Alex