Hey all,
Welcome to the second instalment of the Party of Sin design evolution series. This post will discuss the creative process relating to Envy. For those of you who do not know, Envy is the desire to deprive others of things they have that you do not. From a creative perspective, Envy was the most challenging of the Seven Deadly Sins to capture artistically.

The First Design
The very first sketch of Envy was conceived by Dan Williams and was a male hunchback character that was extremely ugly and would be envious of beauty.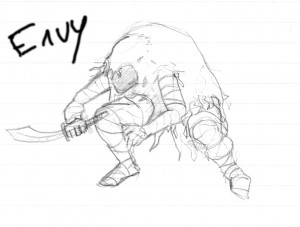 Bum, hobo, leprous, decrepit… only some of the words used to describe Envy.
This concept was scratched relatively quickly for the simple reason that it would be difficult to communicate in a game. How shallow is it to have a character envious of beauty? However, we did keep the knife for backstabbing purposes. Anyway, this was not the direction we wanted to take for Party of Sin and decided to send Tobias back to the drawing board.
The Three Part Mini Series
After the initial concept, Envy went through three key mutations before the Sin was finalized. The most notable change was that Envy had become female. This happened because we wanted to the balance the female/male character list in Party of Sin. Envy also went from being a leprous, ugly, beauty-seeking kook to an innocent, cute, backstabbing b!tch.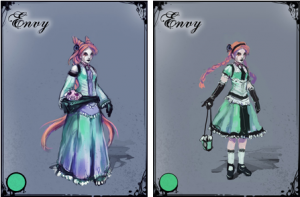 Think little red riding hood but evil and green.
The new criteria led Tobias to design two new concepts of Envy. The first one (left), was too traditional looking for the style of Party of Sin. Her dress is similar to those in the 1700s and her beady-eyed dog in the side pouch was not synergistic at all. The second concept (right) was too similar to lust. She looked more like a fantasy and less like a Sin.
The third and final concept came after Tobias had watched the movie Fight Club and realized that Elena Bonham Carter was the human replica of what Envy should look like physically.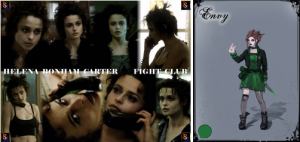 Note: Greasy hair, ripped leggings and slimy attitude courtesy of H.B.C.
The Finishing Touches
Envy was given a dagger, for her melee attack, to coincide with her backstabbing capabilities. This was a better fit than having a Paris Hilton poodle as a weapon. With her ripped leggings and worn out army boots, Envy has the punky look to fit her b!tchy attitude.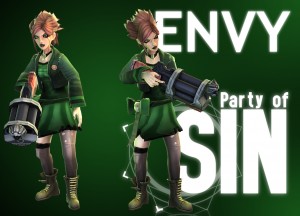 Voilà!
To access Envy's personal bio, click
here
.
To leave a critique, click here.
Alex