Overheid will be available sometime next week! I've got a few minor things left to do with this first release and then it'll be available. Since it's just me, I have to release this in parts, or I'd never get any of it out to anyone. This first release is the first of 7 planned maps, and so 7 planned releases.
And to help everyone wait, here's one last image to whet your appetites!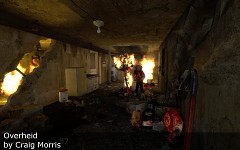 And if you're interested in the demo, download it now; I'll be removing it once the mod is officially available.