B E T A
C L I E N T
R E L E A S E D
Yes that's right, the very first Beta client has been released today. The client only opens Warcraft III - The Frozen Throne because the Beta has not been launched yet. The whole purpose of this Client is to test out the new Pre-Launcher we have designed for the modification.
It features updates (which includes frequent patches), active news (which is also updated accordingly) and one "Easter Egg".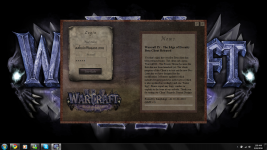 You can download the Client here:
(NOTE: The email address for the Beta Client is "admin@w4eoe.com" (without the quotation marks) and the password is "admin".)
Please report any bugs, crashes or exploits to the team at our website or here on Moddb.com.
Please give the PvPGN IV team a big "WOOT!" for working so hard to make an early release. You wouldn't believe the amount of time we churned from working on this. One night we actually stayed up until 5am in the morning. I'd like to especially thank MusicDemon as he has done all the major coding for the Client.
Thank you for testing our Client and enjoy!
Regards, Eternal Designs