Our first open beta is almost ready! We intend to launch it 01/15/2011 if everything goes as planned. You can expect the following features in this version:
5 Levels, including a tutorial level.
Almost all sounds and graphics implemented.
Original soundtrack for each level.
Fully functional save/load features.
Graphic quality control for slower PCs.
Portuguese/English support.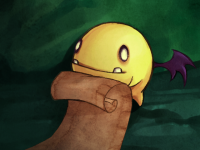 Features that will be seen in the full version of the game:
Unlockable extra content, including back-story and concept art of many elements of the game
At least 12 levels (including the 5 levels from the beta version).
More traps and puzzle mechanics.
Maybe more language support? (Still thinking about this one).
More music and graphics!
Ambient sound volume control.
The open beta will be posted here on IndieDB.
Thanks for the support!