W A R - G I Z E H
WAR-Gizeh is a map I designed for Unreal Tournament III Warfare game mode. It helps me to use main features of the Unreal Editor as lightning, terrain, normal maps, specular maps, shadow maps, materials, DOF, fog, game mechanics, mutators... All this things were new for me, and I passed months to learn them. The result is not too bad and a lot of custom content have been made and will be reused for Unreal Safari. I am now able to make custom meshes faster and better than before. One year ago, I was unable to do a simple house !
G A M E P L A Y
I decided to change the whole gameplay of Unreal Safari. One of it particularity is to be original and different. I do not want some photorealistic graphics or professional animations. The cartoon effect is the first originality of the mod. With a class-based system, Unreal Safari becomes one class-based mod as many. A lot of mod implanted that kind of gameplay better than me. And the previous game modes were not very original (Safari was just a skinned Warfare with XP) So I decided to change all ! More simple, more fun !
Unreal Safari will be based on two simple ideas (based on Team Deathmatch) :
First : there is two teams with very different skills. The Hippos are strong but slow, the Gazelles are easy-to-kill but fast. It is so an asymmetrical gameplay which is not based on the class you choose, but on the team you will be enroled. This part was already programmed for the Opposite Team Mutator you can find in the download section, with sources.
Second : there is a simple XP-system implanted. No power or capacities with XP. You only run faster and have more armor and health. The XP system will have a big influence on the team points.
As the first part of the code is done, I can make some level-design, exploiting and testing the team difference (for example, the Gazelles jump higher than the Hippos, so the Gazelles can use walkways where Hippos can not play)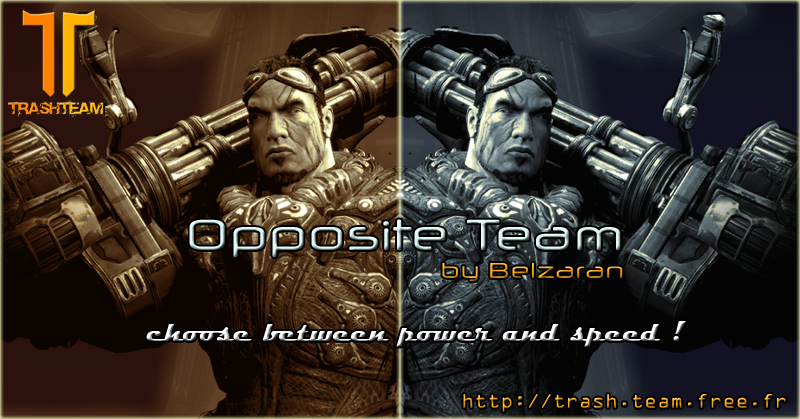 C A R T O O N S T Y L E
WAR-Gizeh had no cartoon style. I do not want to make some cell-shading map ! The characters and weapons will be cartoon-style, not the maps. I have only two characters to make now, and the Hippo is done yet. The AK-Banana need to be textured but is well-advanced.
My work on materials allows me to do something personal, using some different techniques, as cell-shading or TF2 shading. The characters textures are procedural, giving an additive cartoon feeling.
C O N C L U S I O N
After a complete year working on Unreal Safari, the progresses are significant. I improve my skills, made a lot of content and change my objectives. Now, I can see that a release become possible. Unreal Safari is not a dream anymore, it will be released one day if I remember that : "Just for fun, keep it simple !"