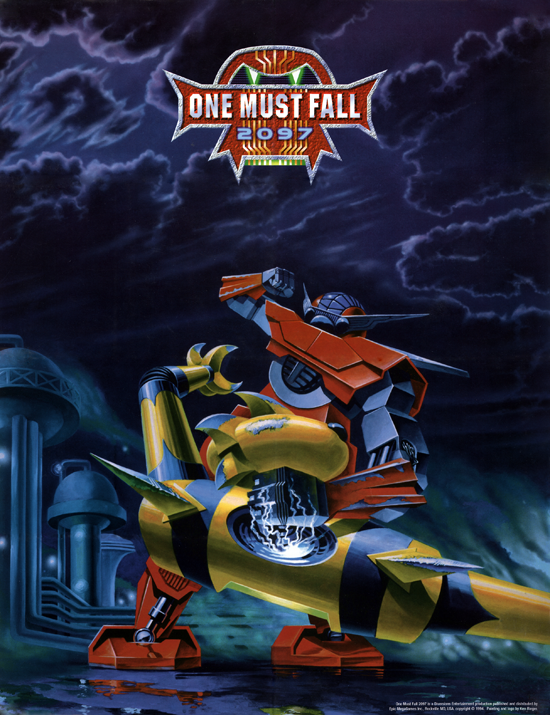 Released in 1994 by Epic MegaGames, One Must Fall: 2097
replaces the human combatants typical of contemporary fighter video games with large Human Assisted Robots (HAR). These HARs are piloted through a physical and mental link to the human pilots; however, this is merely a plot concept, and it is never shown on-screen, nor does it factor in to gameplay. Eleven HARs and ten customizable pilots are available for play, along with five arenas and four tournaments. The pilots vary in strength, speed and endurance, thus the many HAR/pilot combinations allow for large replay value.
Unlike in most fighting games of its time, the arenas (except one, the Stadium) contain hazards. For instance, one arena features spikes coming out of the wall that can damage your robot, and one has a floating sphere that, when struck, triggers a fireball from the floor under your opponent.
The game was later patched to include multiplayer support. On February 10, 1999, the game was declared freeware by the developers. Though it did not fare well commercially, likely due to a combination of lack of marketing and attention from gaming magazines, it has developed a cult following over the years on the internet. Its graphics, gameplay, music (composed using ST3), and details - like the anime-style "news anchors" in between fights are cited as reasons for this attention.
The ten main HARs and their features are:
Jaguar (concussion cannon)
Shadow (creates duplicates of itself)
Thorn (heavy spikes)
Pyros (flamethrowers)
Electra (electric bolts)
Katana (monomolecular blades)
Shredder (detachable magnetic hands)
Flail (two swinging chains, wheels)
Gargoyle (wings)
Chronos (teleportation, time shift)
The eleventh HAR, the Nova, is the final battle in story mode, and is only playable in tournament mode (or through the use of cheat codes in story mode). It is equipped with heavy missiles and grenades, and is by far the tallest of the available robots. Each HAR has three special attacks that can be discovered (except for Shadow, which has four), along with a "scrap" and "destruction" move (similar to fatalities in Mortal Kombat) that can earn bonus points and, in some cases, unlock secrets.
You can download One Must Fall: 2097 here: Dosgamesarchive.com
You can download DOSBox here: Dosbox.com