I have officially released my first play test version of Small Galaxy : Greedy Station. It is lacking some of the full games features (mostly because I don't think they are ready), but enough of the game is there that people can give me some feedback on art, style, core mechanics, and fun.
If you are an XNA Creators Club Member, try out an early build of the game, give some feedback, and help make the game better. Here is a link to the forum thread: Forums.xna.com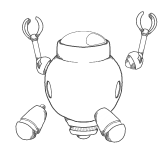 I posted some concept art for one of the games ships. The Multi-Use Ship.
It's a nod to MULE (Multi Use Labor Element) in that it is serves a large number of functions in the game, with interchangeable parts to suit the needs of the situation.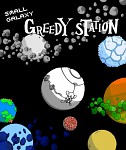 I also have some early box art for you to check out too. Please know that this is not the final box art, but should give you a rough idea of what I am going for. So please give me some feedback, share your thoughts... I would love to incorporate some of your feedback into the final product.
Thats all for now, but keep an eye out in the next couple days for Part 2 of my Game Design Explanation - Explore Gameplay : The Element of Discovery.
Thanks
- fidgetwidget