The Brotherhood of Nod is a mysterious and highly-militant Abrahamic society of allegedly ancient origins,which in modern times began showing the combined characteristics of a vast religious movement, a multinational corporation and a decentralized nation-state, while being none of the three in itself. The globalized brotherhood is led by a mysterious man known only as Kane, and its influence in the world at the advent of the events in which Command & Conquer 3: Tiberium Wars takes place reached nothing short of the status of an unconventional superpower.
The Brotherhood of Nod represents a flexible, elusive and worldwide cultic army which thrives on the sophisticated synergy between low-tech guerrilla warfare and highly-trained forces that are equipped with state-of-the-art communications gear and the most advanced weapon systems available. This technology has been derived from the Brotherhood's uniquely adept understanding of Tiberium-based military technologies.
Nod tactics are highly radical and appear more cruel than GDI's, often showing little to no regard for human life, and their religious fascination with Tiberium also leads them to use the dangerous and toxic substance offensively whenever possible. Nod forces typically are weaker than GDI's or the Scrin in a head-on engagement, yet their use of stealth and advanced hit-and-run tactics to their advantage to control the pacing of the battle, as well as sabotage an opponent's momentum. Their super weapon in the first and third games in the series was a nuclear missile, though in the second it was replaced with cluster and chemical missiles.
Logo: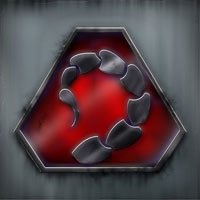 Factions (only in Kane's Wrath)
Black Hand:
The Black Hand are a secret faction within Nod, being around since the first Tiberium War under the control of Gideon Raveshaw who was turned into a tiberium enhanced super soldier, as a result of Doctor Mobius's Project Regenesis. During the second Tiberium War and the Cabal Crisis (Firestorm) the Black Hand were under the control of Anton Slavik, until he exposed the Black Hand to the Public eye during the Cabal Crisis which led to his assassination by Brother Marcion. The Black Hand were briefly under the control of Brother Marcion, until he was exposed as a traitor to NOD and to Kane after which they were re-aligned with the core of the Brotherhood.


Marked of Kane:
These cybernetic soldiers of NOD are led by the Nod AI, LEGION. They are a splinter faction in their own right & appear in Command & Conquer Kane's Wrath. They use cybernetic infantry & enhanced lasers & particle cannons to control the battle field. Another strength is that most of their units are immune to mind control by Scrin Masterminds or Cultists. Weak but fast & maneuverable they emphase more offensive than defensive.