Hey Everyone,
It's been ages since I've posted any news on the project and I have been wanting to post something for months now but I have been trying to get a video made to show you all the new updates in a more exciting way then just posting still shots of units. But all my attempts to find players on Warcraft III's battle.net appears to be impossible. So I have taken this screenshot of a Terran army Vs a Protoss army containing as many of the units from each race as possible. The battle was quick and in favour of Protoss, which is a bit more then I would have liked:(.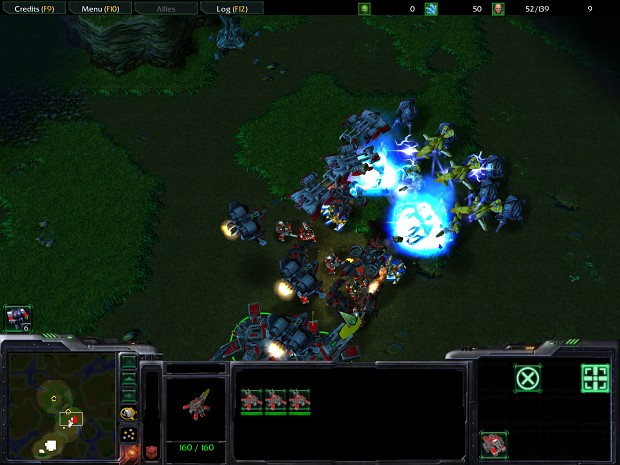 Terran Status: 100% Finished
As always Terran is the most complete race in the maps. I have tested this race as much as possible and from all accounts they seem to be exactly as I want them to be at. I have recently removed the siege tank mode research upgrade, so tanks can now use siege mode straight out of the factory.
Protoss Status: 100% Finished
Though Protoss's pylon field building system is none functional at present, the rest of the race is completed and I have removed as many bugs from this race as I can. I had to remove the High Templar unit from the maps because of so many conflicts with this unit and not having any spells of use besides feedback which makes the unit useless in-game. But there was also a huge unexplained bug where a newly created HT would auto move into the center of the map. This has got to be the strangest bug I have every come across and with no triggers directed to this unit I felt it better to remove the unit completely from the map. So I'm happy to announce that the Dark Templar is now the only unit which can morph into an Archon and this will create more ground options for Protoss in battle.
Zerg Status: 50% Finished
And last but not least is Zerg. Though Zerg is mainly finished I have changed the unit morphing system back to the old system I use to use back in 2008-2011 instead of the upgrade system I have been using for a year or so. I just found the upgrade system which gave a build bar during unit production had a major set back which was no rally points and so you couldn't use Zerg's main aggressive tactic of keeping pressure on the enemy as well as I'm use to seeing in Starcraft II. Problem is I haven't been able to revert the old trigger system into a working system, and so Zerg is kinda unplayable at this present time. I was thinking of just releasing a new map with the current working system but it just feels like I'm rushing these new maps into release and then never fix them in the future.
Currently I have also noticed the Xel'Naga tower system is not working 100% either and only 1 of the 2 towers animates as it should and I cant seem to see any problems with the coding to point to why its not working. Right now I just want to be able to play a game against someone else, so I can see some actual game-play and see how the units are fairing against each other.
Once I manage to finish off Zerg I can then release the new maps. Unless you guys want to try the new map in its current state. I will try my best to find the time to finish off the map as much as possible.
I want to thank all the alpha testers for all their help and bug reports. Your efforts have helped point out alot of things that need fixing and I've been able to fix most of the problems found in the v2.4 maps. If anyone has replays of any battle.net games they have played using the new map please email them to me so I can review and maybe make video demo's for youtube and this site for everyone to watch and enjoy.
until next time guys stay tuned
night_wolveX