Hi People,
We have recently been purchasing a domain name for our website. We decided to redesign the site a little bit again. Let us know what you think of the new website design :D. Take a look around at what we have been working on in the past and we will be posting future projects on there aswell.
We have recently lost a good friend on the team called Nilghai. We fell out due to some different ideas and things weren't going so well on this project as previous projects. We are still great friends but he won't be working on anymore projects, which is abit of a shame.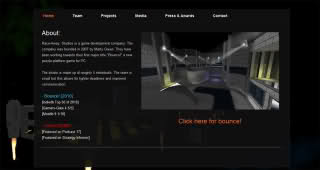 We are currently starting work on the design phase for our next two projects. One is a small project which will be mobile based and the next is a big project for PC on the Torque 3D Engine. We currently havn't got anything set in stone and are still coming up with some fun ideas so could take a few months to prototype various ideas before we announce anything.
Thanks everyone for supporting us and buying a copy of bounce!. Why not get yourself a copy on desura if you havn't got one already. It's even easier to install now just press buy and install very simple :D.
Thanks for reading.