This is a big update so it felt appropriate that it got a big trailer:
Beta Weekend
I would really appreciate feedback on the game! If you've got an iOS device, some spare time and want to play a fun game before it's finished then this is your opportunity! sSgn up for the beta through TestFlight. It will only be open this week since TestFlight is shutting down on the 26th.
New Mechanics
The main mechanic in Super Happy Fun Block is phasing colors out of existence - you can make all blue or all red blocks disappear. However, there's another color that's been present for a long time - in fact, it's right in the game's logo: yellow. What mysterious purpose does this color serve? A completely different one!
Ball's color can now be changed! This has two major effects. The first is a new(ly revealed) mechanic - Ball can walk through objects that match his color! The second is that Ball himself can now be phased out of existence if he's been turned red or blue. Both of these effects will have to be used to great advantage to overcome new obstacles.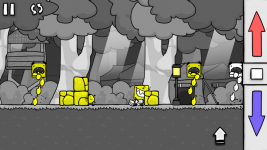 The new mechanic in action! A yellow Ball standing in a yellow Block!
New Animations
Jumping: A lot of people have pointed out that the jump animation looks... weird. Ball sorta would just hang in the air, arms spread, doing nothing. Well no more! Ball goes through multiple animations during the phases of his jump, all of which look a lot better.
Chompers: The Chompers have been made taller and given new animations - they bite, they turn, they freak out when they fall, and they lose their teeth when you stomp on them.
Reactions: Ball need a lot of new animations for the trailer, but why waste them there? There will be another post soon with more details on this!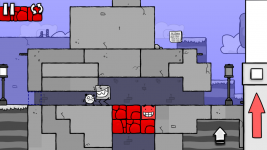 Here Ball is freaking out - he was almost bit in half!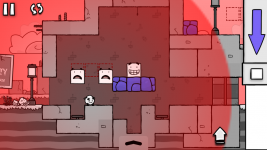 Ball is worried one of those Blocks will land on his head! Can you blame him?
New Soundtrack
Chase Bethea's written great new music for the game! Each world now has its own theme music. You can check out some of Chase's other work at Chasebethea.com - an easy site to remember if you know his name!
Better UI and Tutorial
Not very interesting to talk about, but very important! A more reactive and succinct tutorial make the game much easier to pick up. This isn't really shown in the trailer The difficulty curve has also been reworked so players have more time to understand the mechanic before their brains are pushed to their limits.