Hello again. Sizer here for the Freeworlds: Tides of War Team. It's been a while since our last update, so I thought I'd bring ya'll up to speed on recent developments. The dev team has been working very hard on prepping the mod for our first closed beta test, and progress is moving ahead at a fairly steady clip. So first, a quick congrats to those who got accepted into the Closed Beta. My conversations with all of you over the last days have re-enforced my belief in the correctness of the team's picks. For those of you that were not accepted or did not apply in time, have no fear. We'll be running probably another (more expansive) Closed Beta in a few months, and after that will come the Open Beta. It is our sincere hope have the Open Beta live for this year's holiday season.
On a slightly more eye-candyish note, I've got a little story to convey. Up until recently, I've been primarily just a modeller. I made things. I LOVED making things, still do. Grew up with Legos, and moved on to 3d Modelling when I realized how much more freedom of design I had. But, what was always my bane, was my personal disdain for UV Mapping and Texturing. Boring, tedious work it is. In any case, when I joined the FW:ToW team, I was only required to do what I loved, the act of making. But as time went on, I took on more and more responsibility, and it came to the point where, with the encouragement of my fellow devs, I expanded to getting good at UV Mapping for our texture artists, which was something that really needed to be done, and I did it gladly out of necessity. So that got me to thinking. I hated UV mapping... no one that's sane enjoys it. But Texturing could be a whole 'nother matter. Up until this point, I hadn't had much success creating textures. Partially because of the tedium involved, but mostly because I just plain didn't know the tricks of the trade. But as I grew as a modeller on FW:ToW, my understanding of the fundamentals of certain programs expanded, and so I decided to embark on my first real texture job. You've all seen the result - the Scharnhorst - Class Admin cruiser.
That was a huge thing for me, and it was all well and good, but to be honest, texturing a Star Trek - based Starship is a totally different experience than texturing a small Star Wars Starfighter. Which brings me to the Eye Candy I promised when I started rambling earlier. Ladies and (Mostly)Gentlemen, I am proud to present the Corellian T-Wing Interceptor -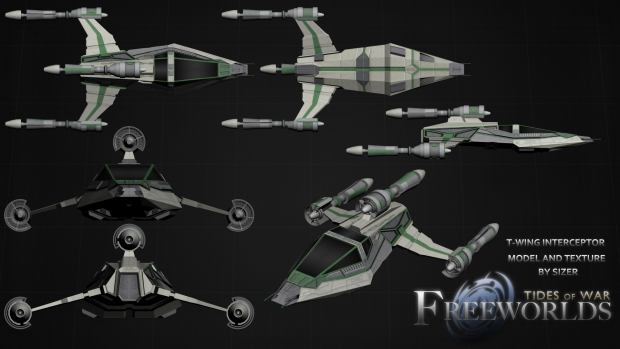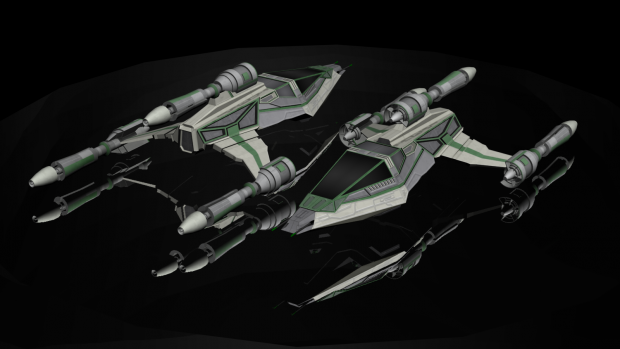 I have to thank both Dr. Knickers for giving me some pointers and kicking my but into gear with getting some better detail work done, and also the rest of the team, specifically FriendlyFire and Sushi, for their encouragement and support in my endeavors.
In other eye candy related news, one of our graphic design gurus, Warb_Null, has just completed his DX9 Stoormtrooper Transport. Take a look at this beaut -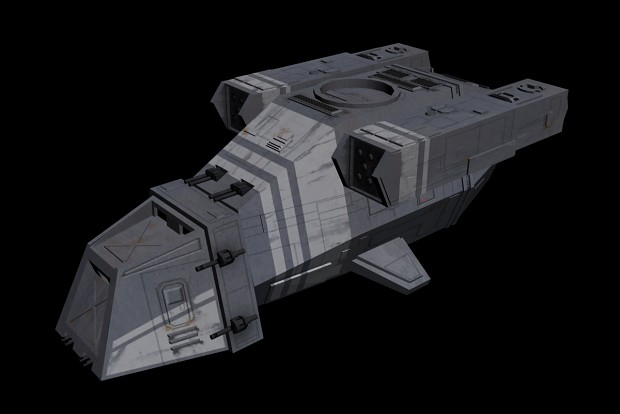 And on that note, I'll leave you all to drooling.
May the Force Be With You,
Sizer and the FW:ToW Team.
As always any comments, suggestions or questions are always welcomed!
-------------------------
Please follow us also on: