While i'm not sure about you, I believe game and mod reviews is a broken system. Allow me to explain. You see unlike movies, books and other forms of entertainment - games and mods are usually continually evolving projects which release patches, fixes and updates. Some introduce radical changes, others just tiny hot fixes. So while your initial impression of a game or mod might be "bleh", a few patches in you might discover the game becomes one of your favorites. The next issue is while one reviewer might find a game to their liking, another may interpret it in a totally different way. Compound this with the pressure placed on game reviewers these days to pump out reviews to the publishers liking, and it is hard to know who to trust.
With this in mind plus the fact that the old site review system sucked, I introduce our brand spanking new review system. Here's how it works:
Easy and optional
After you rate an item a review box pops up. You can either ignore it or fill in a review (maximum 2000 characters) and your done. Your review will then appear on the reviews page and in the RSS feed. And if you change your mind you can edit your review at any time.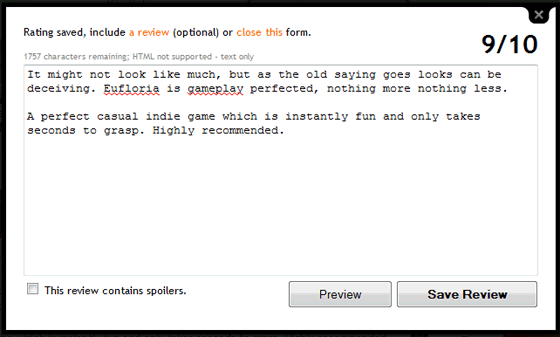 Wisdom of many
I'm a big believer that the wisdom of many beats the wisdom of one, and with many users submitting reviews you can now browse through them them all, good and bad to get the true lowdown.
Cream rises to the top
Write a great review which sums up the game? Well users can "agree" or "disagree" with reviews with the best rising to the top. Plus the system is smart so a review with 100 agrees and 100 disagrees will not be ranked higher than a review with 50 agrees and 0 disagrees.

Developers cannot rate their own content
In the past developers could rate their own content however the system now stops this. It isn't too difficult to bypass this validation, but that probably isn't a great idea now as you can view a users review history in their profile.
Global review page
Track all reviews coming in from all games and mods on the global review page. See which titles are rated the best overall by their players. Subscribe to the RSS and receive a feed of updates.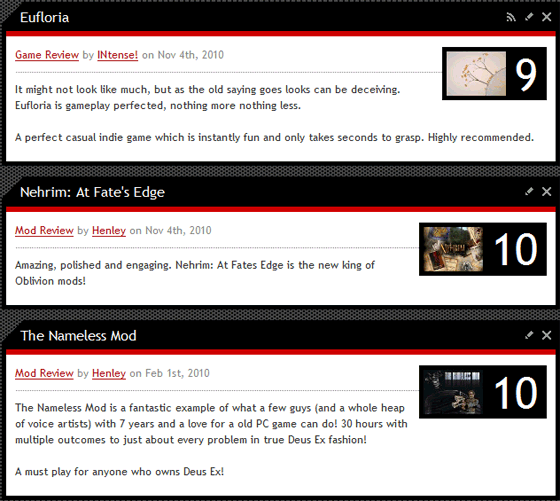 Your review history
Want to know what games you rated 10 and which you rated 1? Well now you can browse your review history (see mine), edit your reviews and delete them from your profile. This also means you can view your friends reviews (and receive updates when they post reviews) to see which games they like playing.
Review breakdown
Sometimes it is hard to tell how good a game is by its overall score. For example a game may have a rating of 6, and yet the majority of reviews are 8's and above, it is only a few haters that rated the game as a 1 that is pulling its score down. Now at a glance you can view a games rating breakdown and even click each item to read reviews at that score.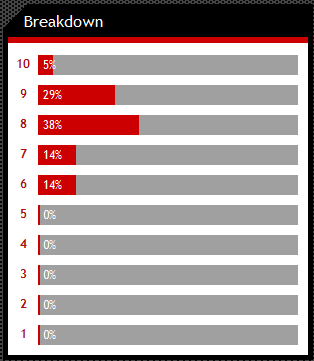 I've been meaning to replace the site review system for such a long time, but have been so busy with Desura that it has been stuck on the backburner for a while. But on the weekend I decided to take a break (yeah and work on this because it was damn fun to make) so I hope you enjoy this.
Plus with Desura coming out soon it was about time we got a great review system together. So please let me know your thoughts. Future functionality might include the ability to see whats hot, browse the hottest site items and when viewing a game / mod page see key quotes from reviews like "kick-ass action mayhem" the kind you see on games boxes.
ENJOY and don't forget to go back and add reviews for your favorite games new and old. I'm sure the developers and fellow gamers will enjoy reading them.