My game is finally now available in 2 new shops :
IndieGameStand:
Indiegamestand.com
and
Amazon:
Amazon.com
In both shops you will get a Desura key. In IndieGameStand you also have the option to download it directly.
And my game would be a nice gift for christmas! Hoh, hoh, hoh!
And my game will also soon have it's own wiki!
Upcoming version 1.2.3
I added a lot of suggestions users made. Currently I am working on a latern and a flash light. Both will be portable to be used for example in caves. Here you see the latern working (you only see the lighting, I didn't made a model for the latern yet):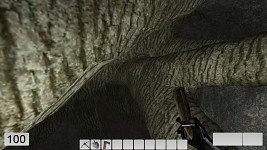 The flash light will go much farer than the latern but it will be a spot
light. So the choice will be up to you which one you want to use. In this screenshot you also see the newly generated roots in the caves. But I messed it up a little bit here. There are to much roots. I will reduce the number of them.
And I used the fly cheat to fly high in the sky (oh year!). Ok then I realised that my mountains could be much higher. So I implemented a new generator version with higher mountains: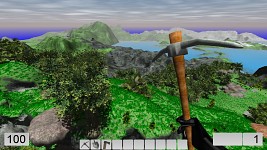 If it works I will also add a canyon in the desert region. I am also experimenting with higher trees. But I do not like the results so far. And I have now oases: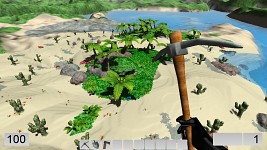 The crazy thing is that I didn't implemented these :-). Perhaps they have something to do with changing the biome distribution or the adding of the mountains. But I personally like these.
And I am working on a better navigation system!
Upcoming version 1.3
For this version I plan big changes. I want to make it available for Linux and for Mac. For Linux I already created a (hopefully) portable executable under Ubunut 6.06. Yes I am using this old version to create a binary which should work on all Linux versions upwards. If I would compile it for example under Ubuntu 14.04 (which I use to develop the game). It would only run on Ubuntu 14.04 and upwards.
I managed to get access to a Mac. I already compiled half of my game. I only have problems with the libraries on which my game depends. And then I must think about how to pack the game.
Both version for Linux and iMac are exclusively for 64bit systems. But this shouldn't be a problem as 64bit systems are much more common under these operation systems.