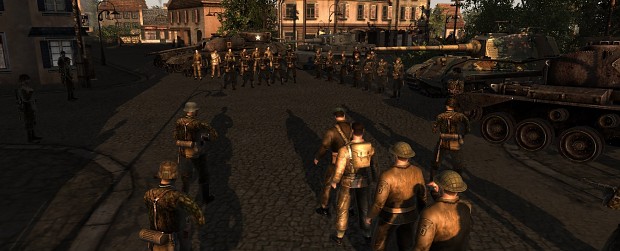 After seeing alot of great WW2 mods out there it will be senseless to create another one. We want to make a new one with a new, fictive story (The idea is old, but there's no mod for MoW with such a story out there) - What would be happen if someone helps the 3. Reich to the victory?
In the late 2044's, a marvellous scientist invented a time machine. He traveled back in 1938 - And discribed the progress of the planned war. Beside stratigic information and intelligence reports, he brought the knowledge of further inventions to the engineers like better engine technology, techniques of effective mass production and knowlegde about upcoming failures in developement of weapons.
The Greater German Empire rised to an unstoppable war machine; but the time traveller gave attention on a time-line of developement, so modern weapon systems weren't brought to the past.
After the invasion of Poland, Germany allied with Russia; While Germany invaded France and Great Britain, the USSR annexed half Asia togehter with the Japanese Empire.
After the fall of London 1942, British politican evacuated to Australia, Canada, the USA and other countries.
In spring 1943, the Axis invaded the USA...
The mod features mainy a story about the invasion of America, the fights between resistance and the german occupying forces, and the attempt of liberating the world by a new coaltion formed by Winston Churchill and other outcast politicans. You will play as Germans, Russians, Japaneses against American resitance and militia, minor other countries and of cause Winstons army.