Hi guys,
Things have been progressing as planned, I can't wait to release the first stress test. I will surely announce the date and signups within the next few weeks as I get everything implemented and ready to go.
For now, here are some hairstyles you'll be able to rock in the first release. There will be many different color variations for the styles: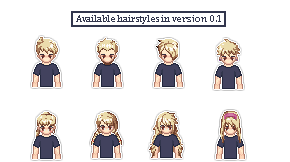 I've decided to leak some details about alpha and the first stress test. There will be several features that will be built upon but very basic upon the first release and they include:

[ * ] Jumping/platforming in a top-down environment. You will be able to jump and mount to high levels like buildings, mountains, etc.
[ * ] Combat damage algorithm
[ * ] Jutsu system tied along with a stat buff system. Also a convenient and efficient menu use of switching jutsu to use making the battle system user-friendly and fun.
[ * ] Inventory system - will be mainly used in alpha to learn jutsu from scrolls and using potions.
[ * ] Simple chat system
Until next time! Make sure you sign up with our community today if you want to participate in alpha!