Hi People, Race-Away hasn't been as busy as usual as i have been moving to my new university. So just been getting settled in :D. I'm really enjoying the games programming course so far alot of fun :D. All the staff have been in the industry aswell so it's great to ask them questions about it all.
We have just been working on a GUI make-over this make-over we have changed all the fonts in bounce! to suit the game better and also cleaned up areas such as the HUD which we felt was abit cluttered.
Main Menu: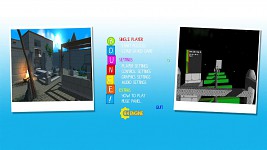 HUD: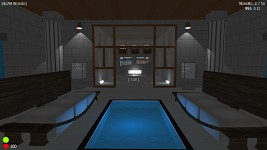 So as you can see by the images above the design fits the game better. We plan on gradually replacing all the settings and other elements to just have a few and add a automatic mp3 player instead of just the panels.
We are currently working on the update for release on Halloween. There may even be something abit special in the update :D.
Feel free to buy a copy of bounce! and really enjoy our game, create your own levels and we may even feature them in the full game..plus if your good enough we may even pay you for the levels. You can buy bounce now while it's only £4.99. The price may increase slightly once we sell on another platform because we get taxed quiet abit, so get it while it's cheap :P.
Once we get another 6 sales we can get paid aswell so it means we can get some web hosting and add in some global leaderboards so you can battle each other for your place!
Website: Race-away.weebly.com
Buy Game: Moddb.com
Don't Forget to watch our profile for a chance to win game.
Thanks to everyone that has supported us so far and bought a copy
We made almost twice the sales last month!