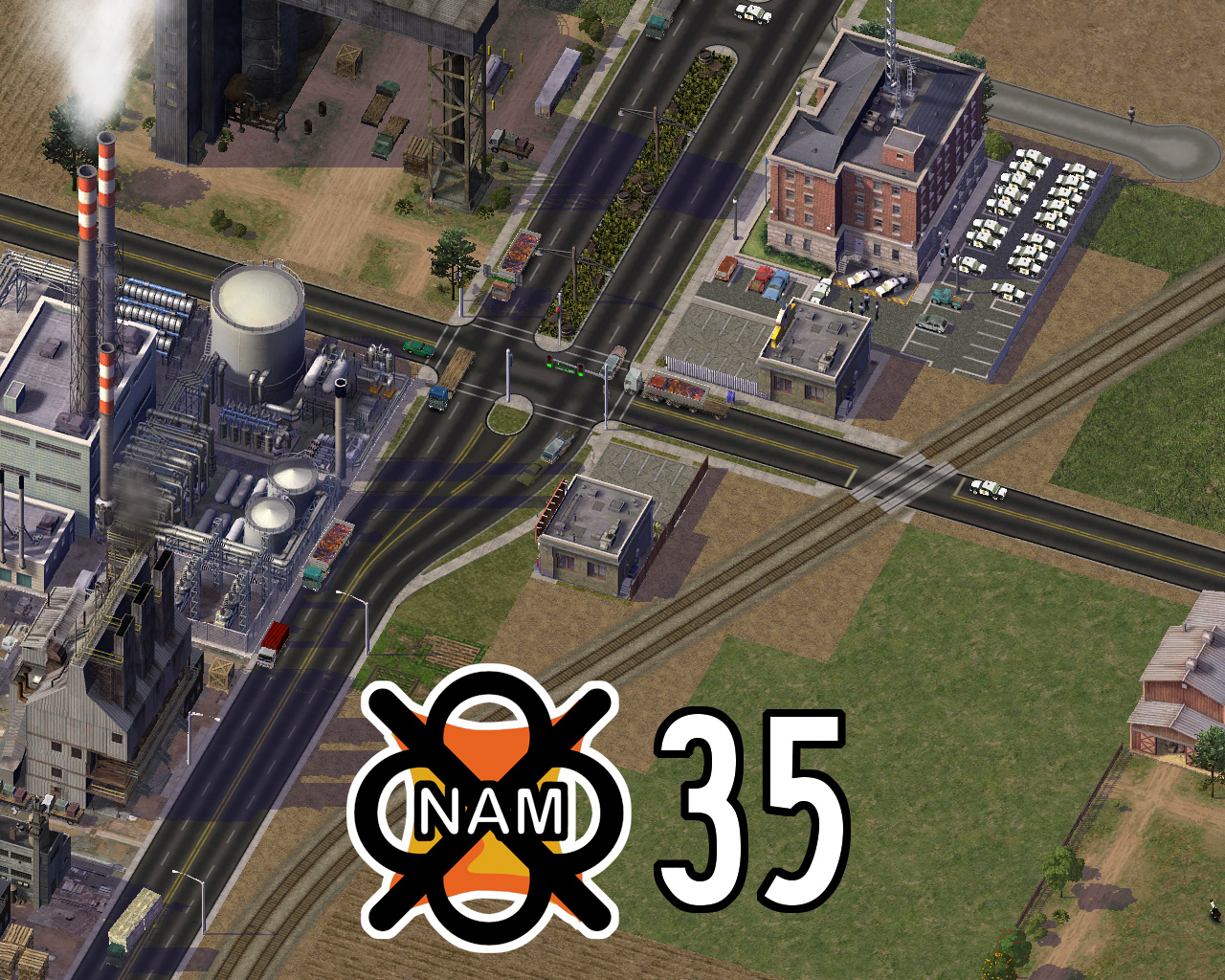 New features in Version 35--November 5, 2016

New RealRailway (RRW) FlexTrack functionality, including draggable Fractional Angle Railroads (FARR) at three angles (FA-2, FA-3, and FA-1.33/1.5) and improved Single-Track Rail (STR) support.

Vastly improved adjacency stability for ramp-style RealHighway (RHW) FLEX Height Transitions, including many adjacencies with FLEXRamps and Draggable Ramp Interfaces (DRIs).

Several new draggable NWM transitions: NRD-4-to-ARD-3, NRD-4-to-Avenue, NRD-4-to-TLA-5, NRD-4-to-RD-4, Road-to-RD-4, TLA-3-to-Avenue, TLA-3-to-TLA-5, AVE-2-to-TLA-5, AVE-2-to-Avenue, TLA-7/AVE-6-to-Dual-OWR-3, OWR-4-to-RHW-8S, OWR-5-to-RHW-10S, and OWR-1-to-MIS. These transitions can either be built through the stub method, or (in case of different base networks), direct connection.

At-grade intersection support for the Road, OWR, and Avenue Viaducts, plus other stability and cosmetic improvements.

Multi-Radius Curve (MRC) functionality added to the L1 and L2 RHW-2.

A number of path fixes involving elevated RHW networks.

Support for at-grade RHW-4 x Avenue, RHW-3 x Avenue and MIS x Street intersections (OxO only), as well as improvements and additions to RHW-2 and MIS diagonal intersections with Maxis surface networks.

Proper P57-era RHW support for Moonlinght's Alternate El-Rail and Bullet Train (Shinkansen) mods.

Various fixes to the Maxis Highway Override (MHO), including improved RealRailway (RRW) support, support for moonlinght's Alternate El-Rail and Bullet Train, and Level Bridges for both L0 and L2 MHO networks.

Re-implementation of some multi-tile RHW and NWM starter pieces, to improve stability in preparation for future additions. Legacy code has been added to provide stability to older, unconverted starters.

INSTALLATION
To install NAM 35, run the enclosed file "NetworkAddonMod Setup 35 SFX.exe". This is a self-extractor that contains the actual installer for the mod, and is used to considerably shrink the size of the download (260MB vs. 1GB). Run it, and you will find the file "NetworkAddonMod Setup 35.exe" in the same folder. Run it and follow the instructions to install the NAM.
Do NOT uninstall your previous installation if you are an existing NAM user. The NAM installer can detect your previous installation options by reading the folder, and as such, it is safe (and recommended) to install NAM 35 on top of your old version. If you remove the previous install, however, you may not remember exactly which options you had selected, which could potentially cause issues in your cities.
REQUIREMENTS
NAM Version 35 requires a retail disc or digital download copy of SimCity 4 Deluxe, updated to at least 1.1.638 (the version number for disc copies, with the EP1 patch applied--most retail digital download copies are pre-patched to Version 1.1.641).
Special Thanks: The NAM Team would like to extend its sincere thanks to all the members of the community for their continued support over the past 12 1/2 years the mod has existed, and to SC4 Devotion, which has graciously supported the NAM Team in its 10 years of operation (as of this month).