As you may have noticed, the model of our (hopefully) new EU(Tau'ri) Titan has finally made it Ingame. But it has no name yet. We have decided, that it would be a fine thing, letting you decide witch names it shall have.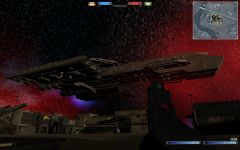 We have five Maps on which we will have this baby floating around, two names have been picked already, leaving three free slots for you to fill. Just send any suggestions to the Inbox of Rev._of_the_Fallen here at ModDB, the entry deadline is the 27th of December this Year and the winners will be announced at the 1st of January 2010. The name can be in any language (written in roman letters/romanji) as long as it's not an insult or a name of a terrible, real person. (villains from Comics/Mangas and Animes are allowed, as long as they aren't referring to a bad, real person.)
We're curious about your suggestions.
What you get if your name is chosen:
A slot for the closed Mod Beta, when it's ready, so you'll be one of the first playing the nearly finished Mod.
You'll become a part of our Mod, represented by your suggestion for the name of the BC 304.
Your ModDB username will be mentioned in the 'Special Thanks' Part of the Mods Credits.
last but not least: if you want, you'll get a Full HD resolution Renderpicture of the 304, tagged with your name.
If we don't choose it you'll be mentioned in the 'Additional Thanks' Part of the Credits, to honor your participation.
Stay tuned and be patient,
The Revenge of the Fallen Mod Team.