Mud and Blood patch 0.2.0Mud and blood classic mode has been started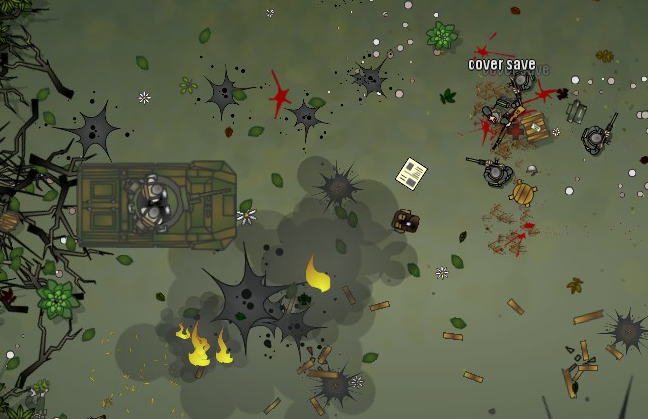 Good day folks, very happy today to drop the 0.2.0 patch which introduces the classic mode to the MNB steam version. It took me a little while but I figured a way to run 2 games mode (classic and campaign mode) simultaneously on our custom engine.

Before we get into the details of the patch I invite you to fill up our small survey if you have 2 min. Those who have been around Mud and blood for few years know that I really value your input and the MNB games grow with you. So hit this up and let me know about you.

Finally, if you haven't done so join our discord. There is a lot of action there lately with constant vids uploaded by the testers about gameplay and tactics.

The classic mode patch


Classic mode is a defensive game loop where the commanders can have an experience that is close to what MNB2 was back in the day while also bringing additional depth to a game that is catered to the underserved hardcore tactical military crowd. Stuff that over the years (12 of 'em yikes) of developing MNB the community and I thought it could be cool to add. The end product is a game that is very easy to pick up and enjoy but challenging to master while being very fun to watch and listen to (Them sweet sweet gun sounds baby).

This is very 'early stage' currently and a lot of back-end restructurations were required in order to allow the player to simultaneously switch between classic and campaign game mode at will with no repercussions to his/her profile. but now that this code is nailed, the flood gates are open.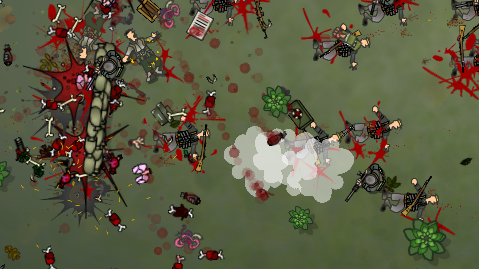 So what classic mode is shaping up to be,

The concept: The goal of the classic mode is to give the Mud and Blood player this good old feel of tactical tower defence in a brutal and merciless battlefield filled with an explosion, blood and often comical violence. While going through a lot of pain to keep the core values of Mud and Blood intact i wanted to also give some room to mastery and creativity to the players. This was done thru the additions of mechanics which I will describe below.

Tactical points: Tactical points in MNB Steam work the same way as MNB2 and are distributed at each wave.

The squad: The players start with 6 soldiers and will be only controlling these guys during the game. If they die you can call replacements with Tactical Points. The commander will also be able to call a plethora of support like 3rd parties (French resistance, Rangers, other members of the 29th, vehicles)

The enemy: If you have followed the development of Mud and Blood you are already aware that I'm super excited for you guys to fight this new AI. When designing the basics of the classic mode I wanted to keep some of the cool behaviour and tactics the Ai was using in the Campaign mode. This resulted in a fun reactive enemy that uses fire and movement, moves laterally, sometimes even retreats and waits for reinforcements. Currently, there are 3 types of infantry in the game and 5 vehicles.

The map: The map is bigger, 20 times bigger in fact. You can move the map around by using WASD. This gives the commanders the entire autonomy to fight where he/she wants and to maximize terrain to their advantage. At the start of a game, you move your little squad around and figure out where you want to set up your defences. This said, everything in this map is destructive, so the tactical reality will change over time. Nothing prevents you to back your squad a few hundred yards to catch a breather or even push into the enemy if you are the aggressive type.

This sums up the concept for the classic mode that I am currently building. If you got any questions hit us up on discord or over here.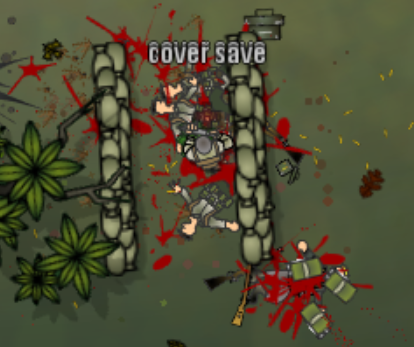 Patch notes for 0.2.0

- Fixed some Machine gunner range issues.
- Medic "hang on" healing messages will not play for Germans.
- Wooden carts and woodpiles will now have their cover removed when destroyed by explosives.
- Disabled soldiers that are left behind still get checked for medals availability, if they are still alive when the patrol finishes.
- Bouncing betty blast reduced by half.
- Fixed a fault where Wespointer and Tactical Advantage skills were not resetting.
- Pushed back the flankers by 300 px (they spawn up to 900 px back now)
- Change the screen sanity function to avoid empty fields when longer maps are generated
- New player and German skill, airburst arty. A very potent large scale crowd control (Blue smoke for the Germans)
- Iron cross bearers will now have 3 saves comparable to the veteran save your soldiers have.
- SDKFZ will now spawn properly when Pz grenadier battel condition is on.
- Troops that are dead won't be affected by stun for obvious biological reasons.
- Reduced damage of carbines by 10
- Increased combat creep by 20%
- Increased German hitpoints generated by skill creep by 20%
- Increased German base morale by 10
- Mines will affect vehicles now
- Mines can be disarmed by engies, Sappers and soldiers having a shovel
- Fixed a ribbon (8) description
- Super basic MNB classic implementation, this is a big effin deal.
- 0.2.0a fixed floating equipment debug view

Well friends, thanks for taking the time to read this. MNB is almost at 5k wishlists and this is pretty insane considering that MNB is 12 years old. This warms my heart.. I really do love all yall, you beautiful bastards. So, because of all that, I'm now trying to put a demo out. More to follow on that.

Stay safe guys, be cool humans to each other and stick around for the next patch in few weeks which will have core classic features implemented.

Respectfully,

urb