Iam actually very surprised that the following news hasn't been posted here on ModDb yet but I suppose when you think about... It's always better late than never! Anyway, this news is some great news for the fans and players of Valve's popular title Left 4 Deadon both PC and Xbox 360 platforms. And of course, this news is all about the recent announcement of additional DLC (Downloadable Content) due for said release this September.
Alrighty then, lets get on with it! The following text is taken directly from the recent Valve Press Release on Steam dated August 4th 2009. The Campaign Poster is taken from www.l4d.com . Happy Reading!
---
Crash Course Campaign Due in September
August 4, 2009 - Valve, creators of best-selling game franchises (such as Half-Life, Portal, Team Fortress, and Counter-Strike) and leading technologies (such as Steam and Source), today announced the next major downloadable content (DLC) update for its co-operative zombie thriller, Left 4 Dead
Entitled "Crash Course," the latest DLC delivers new single-player, multiplayer and co-operative gameplay to both platforms. Targeted for release in September, "Crash Course" bridges the gap between the end of the "No Mercy" campaign and the beginning of "Death Toll" in the original game, expanding the game universe with new locations, new dialogue from the original cast, and an explosive finale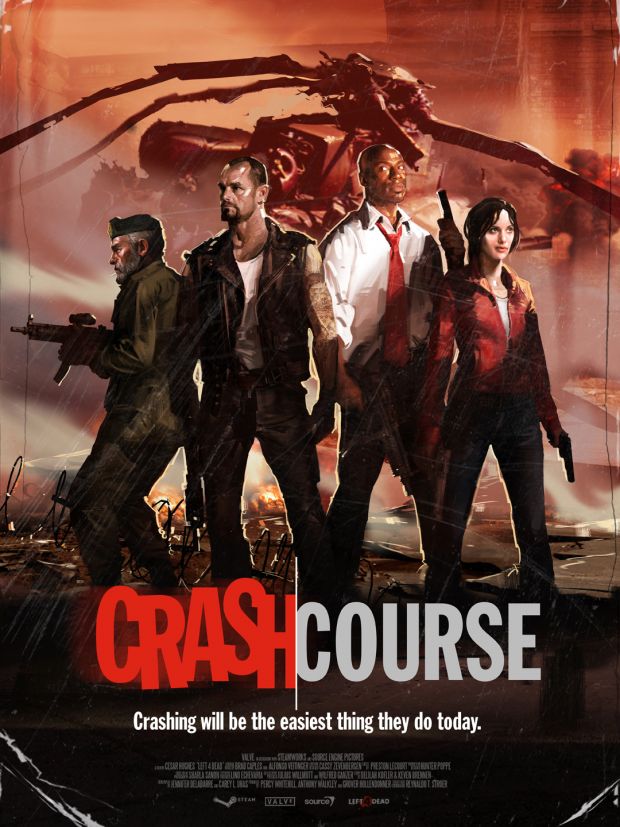 Crash Course Campaign Poster

While containing both Survival maps and a Co-operative Campaign, the primary goal of "Crash" is to deliver a complete Versus mode experience in just 30 minutes, resulting in a streamlined version of the game's existing Versus campaigns. A recharge timer for infected teammates has also been added, and item spawn behavior has changed for more balanced gameplay.
"Since the release of (L4D), the #1 new game title on Xbox 360 and PC in 2008 Left 4 Dead last November, the design team has been excited about creating new experiences for this world and allowing players to do the same, by releasing much of our internal toolset, like the Survival Pack and Authoring Tools," said Gabe Newell. "We're working with the fans toward the ongoing entertainment value of the product."
Left 4 Dead is an action horror game from Valve that blends the social entertainment experience of multiplayer games such as Counter-Strike and Team Fortress with the dramatic, narrative experience made popular in single player action game classics such as the Half-Life series of games. Released in November of 2008, L4D has earned over 50 industry awards from outlets around the world and sold almost 3 million copies worldwide.
Left 4 Dead: Crash Course is targeted for release in September and will be available free of charge on the PC and for 560 Gamer points on Xbox Live.
For more information, please visit www.l4d.com .
---
Click Here to View the Original Source of the Above Text on Steam.