Welcome back everyone,
So in this update I've finally added a currency to the game. You'll now get money for shooting down enemy ships, and if you save up enough you can even buy a better, more powerful fighter for yourself!
The store computer acts not only as a method of commerce, but also as a way to access your garage and swap out your ships whenever you want.
Soon to be added will also be the ability to upgrade your ships systems for more mobility, offense, defense, and larger missile capacity.
Personally I'm pretty excited about this! Your money and ships will be saved across playthroughs so you can start saving up now for later upgrades if you want!
I realize the need for a stable public server for people to play on, and am working on finding a hosting solution, so hopefully that will be something in the near future as well.
New New New New Ensign
---
I know I've threatened this before, but I'm feeling pretty good about it this time. Kuroto Robert has joined the team and is working on a new Ensign-1 that will hopefully finally make it in game.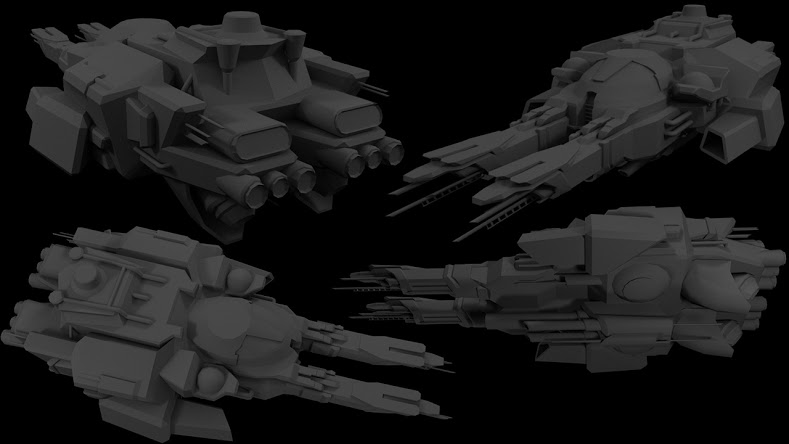 I like the twin barrel design he's creating, and am really excited to be bringing this in to enemy territory to melt faces.
Multiplayer Improvements
---
The multiplayer code has gone under some improvements as of late. You can now warp capital ships across gravity wells as well, no matter how many other ships or passengers they are carying. This means it is potentially possible to warp an entire mobile fleet in all at once, which I'm very excited about seeing in game.
To facilitate this, the derelict frigates found throughout the game have become much easier to capture, as they will no longer have automated defenses inside them to slow players down. So start building your fleet!
Up Next
---
One thing I'd really like to get in the game is some player vs player combat going. So hopefully in the next update we'll finally have a an alien faction that players can start as. This will be character based, so you can play both sides on the same server if you want. In addition to finally giving players something other than AI to shoot at, it will bring a territorial aspect to the map, as players will be able to "colonize" certain areas which will change the flow of incoming ships in their system to a friendly type that will act as defenders to your territory.
So stay tuned for the next update and start saving up!