Map Menu
After creating the first two bosses I decided to redesign the map menu, because the old one was to overloaded and confusing. I removed the whole highscore-section and changed it to a tooltip-window, which pops up when you hover over the score value of the boss-section.
The free space is now used for the new animated world map. It's a tall inline-frame with water, islands and space areas and can be controlled with the scrollbar on the right side or the mouse wheel. I hope this is more user-friendly than the old map with one page for each area.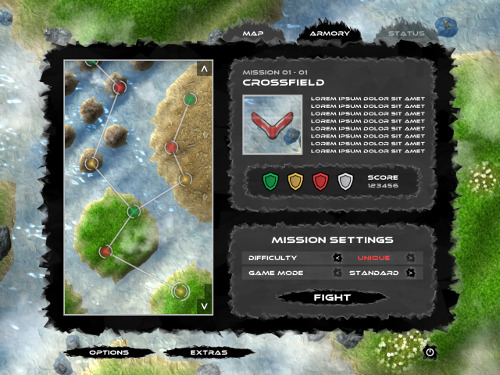 Every mission has 3 difficulty levels: Normal, Hard and Unique - and 3 game modes: Standard, Casual (easier but with penalties, tbd) and Hardcore/Extreme (oneshot gameplay).
The difficulty levels change the whole boss-fight and are successively unlocked. Beating them changes the mission color on the world map and unlocks 1 of 3 progress-medals (currently placeholders). The 4th medal is for the optional extreme mode.
The normal difficulty unlocks the next boss, but doing a higher one rewards new equipment, which will be highlighted by decent symbols on the specific progress-medals.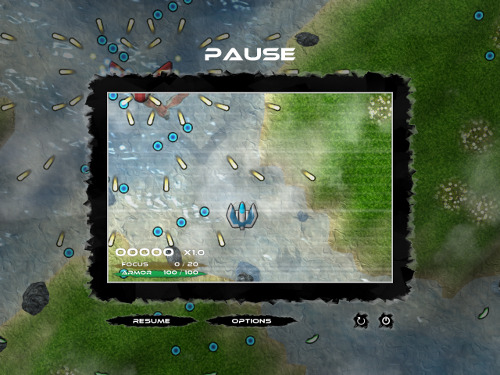 ---
Update Notes
Improved performance of 2d/menu objects
Improved performance and sharpness of the post processing effect
Improved the sidescrolling effect
Fixed wrong shadows on smaller resolutions
Fixed wrong deep values on all water surfaces
Fixed wrong normal mapping on outdoor surfaces
Implemented Boss 01-01
Implemented a new animated world map
Implemented borderless window mode
Implemented wind-effect while moving
Changed Boss 01-02
Changed the map menu
Changed the pause menu
Changed the overall design goals
---
I try to release a demo (first 3 bosses) with the next update, but currently have Tenosynovitis (Sehnenscheidenentzündung) in my left wrist and therefore can not work or play too much on the computer.
Thank you
- Martin