Modding Dyson - The Basics
Hello everybody, we get many questions about the ability to mod Dyson or to play or create new levels, so I am writing this post to provide a summary on the kinds of things that are currently possible. This post will handle some general descriptions first: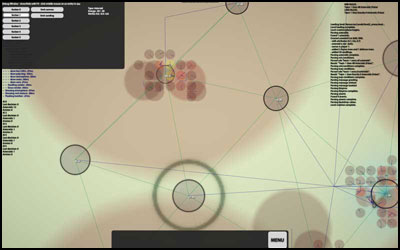 Editing the xml files
IMPORTANT NOTE: Backup your files if you are going to try editing the game's assets. Just do it to make sure!
Dyson is mostly procedurally generated, which means that there are almost no assets in the game that can be directly modded. So it won't be possible for you to replace seedlings with flying pigs, which is one of the few regrets that we have. I am sorry but there can be no flying pigs for now.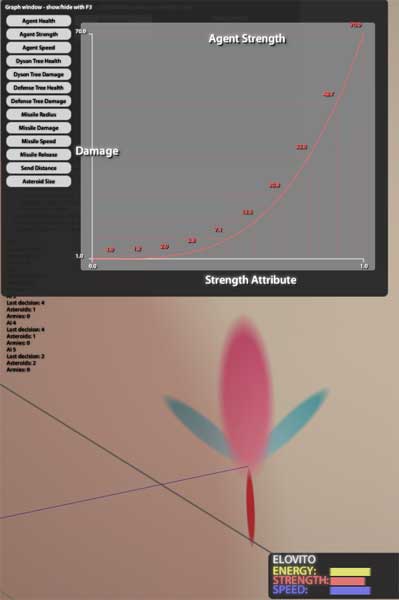 HOWEVER, the game uses level and definition files in .xml format, and these can be easily edited by hand with a text editor. The levels are in the Dyson/resources directory and are the files with the .level extension. .level files contain level specific information.
The game also uses a default.xml file, in which you will find game wide default settings, these are generally active, unless they defined in the .level file in which case the .level file data takes priority. So if one defines the asteroid radius range in a level, the one in the default.xml will not be active for that level. The advantage of this system is that you only have to define those changes in a level that you want affected.
Editing these .xml file amounts to editing the rules of the games and the levels, the level content and dimensions and the level scripts.
Some examples:


xml code:

<dir name="MAXTREES" type="int" value="4" />

Changing this value edits the number of possible trees per asteroid in a given level



ENEMYFACTIONSMIN code:
<dir name="ENEMYFACTIONSMIN" type="int" value="5" />
<dir name="ENEMYFACTIONSMAX" type="int" value="7" />

This gives you the total range of enemy teams you can encounter in a level. The level will load with a random value between the min and max values you have provided. In this example your level will have 5 to 7 opponents.
See if you can figure out some of the others.
Editing Dyson's visuals.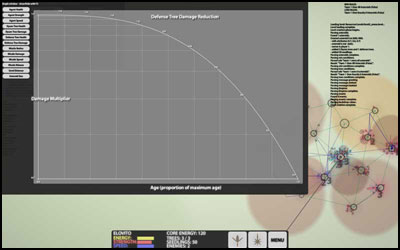 There are a few things that can be done but not many. If you like you can edit a level's colour scheme, and if you like you can edit the game's colour scheme as well, which will affect how seedlings and tree colours etc. look.
Each level has a line like this one:
code:
<colour r="230" g="230" b="198" />
Now, those numbers behind the letters r, g, and b, are the RGB values, and if you go into a colour picker, like the one in Photoshop or one of the many free downloadable ones you can see what coulour you get when you mix these three values. If you change these values to the ones that give you a colour you like in the colour picker, than the level will slowly blend to that colour when you run it. Careful though, if you overdo it the seedlings will be hard to see, or the whole thing will look rather garish! :-)
If you feel really confident you can go even further and change the colour appearance of the in AI teams which for example determine the game's organic objects: the seeds and the trees and so on. To do this you must open this file, to be found in the resources directory: "teams.png"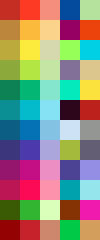 Each horizontal bar of colours represents the available colour palette of one AI Team. You can change these colours and study the results in-game. Getting a pleasing colour scheme is harder than you think so make sure you back up those files!!
These are the basics for now, there is way more to explain but this will get you started. At some time in the future I will try to provide installments that will cover all values in the game so you can mod to your heart's content. :-)
You can also have a look at the forum where we have provided some of this information already, and people have been busy making new levels and mods. The threads explain some advanced features and host playable downloadable levels made by our community of players. All this can be found HERE.
Have fun!
Rudolf
Team Dyson