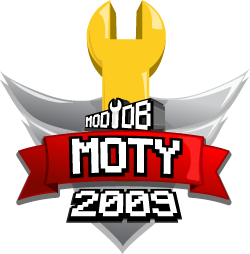 Greetings Troopers!
Well it's that time of year again.
Christmas you say?
Hell no!
It's time for you all to vote for your favourite Star Wars mod once more, as once again the ModDB Mod of the Year Awards have come around. Has it really been 12 months since the last one?
Haul your butts over to the ModDB forums and register your vote on the First Strike page which you'll find here:
Get your votes in before January 5th and help us qualify for the Top 100 Mods of the year, and then following that should we qualify, voting will continue to find out which mod will come out on top in the 2009 ModDB Mod of the Year Awards. Oh and remember, votes from ModDB members are more valued than non-member votes, so be sure to login (or register if you feel like it) before voting.
Last year we made it all the way to fourth place in this competition, and with the eagerly anticipated Jundland Wastes map just around the corner, not to mention countless tweaks to the mod on the whole, we hope to do even better this year.
Keep those sensors peeled for further new content updates that shall start to come thick and fast as we approach this new and exciting release.
Now get voting people!
And Merry Christmas!!