Until today three districts remained without generators: docks, military districts, and city centers. I knew how I wanted the centers to generate but hadn't worked on them yet, whilst docks I'm leaving until I actually implement ships and naval travel, but military districts needed to be done this releae and were proving very challenging. I didn't just want to have huge regions of endless barracks – I wanted something much more varied – but at the same time I wanted to try to only add things that would have gameplay valuable if/when you gained access to a military district. I've settled on a middle-ground between the two – some areas are just for decorative purposes and to make the world feel consistent, coherent and real (akin to farms, for example), whilst other parts have clear gameplay goals, will contain important NPCs, etc.
So, military districts (like upper-class housing districts) are split into four parts. Each of these has a number of features which slot together in a fairly complex manner, and in a range of different orientations. These can be: Barracks, Parade Grounds, Archery Ranges, Siege Weapons, Armouries, Officer Quarters, Hospitals, and Stables. These combine in a range of different permutations to produce military districts. Each military district is also guaranteed to include two special combat NPCs – these may be able to raise a stat, or train you to use some of the more complex moves for a weapon. More on this in a few versions time when we're doing weapons and combat. Here's a labelled example: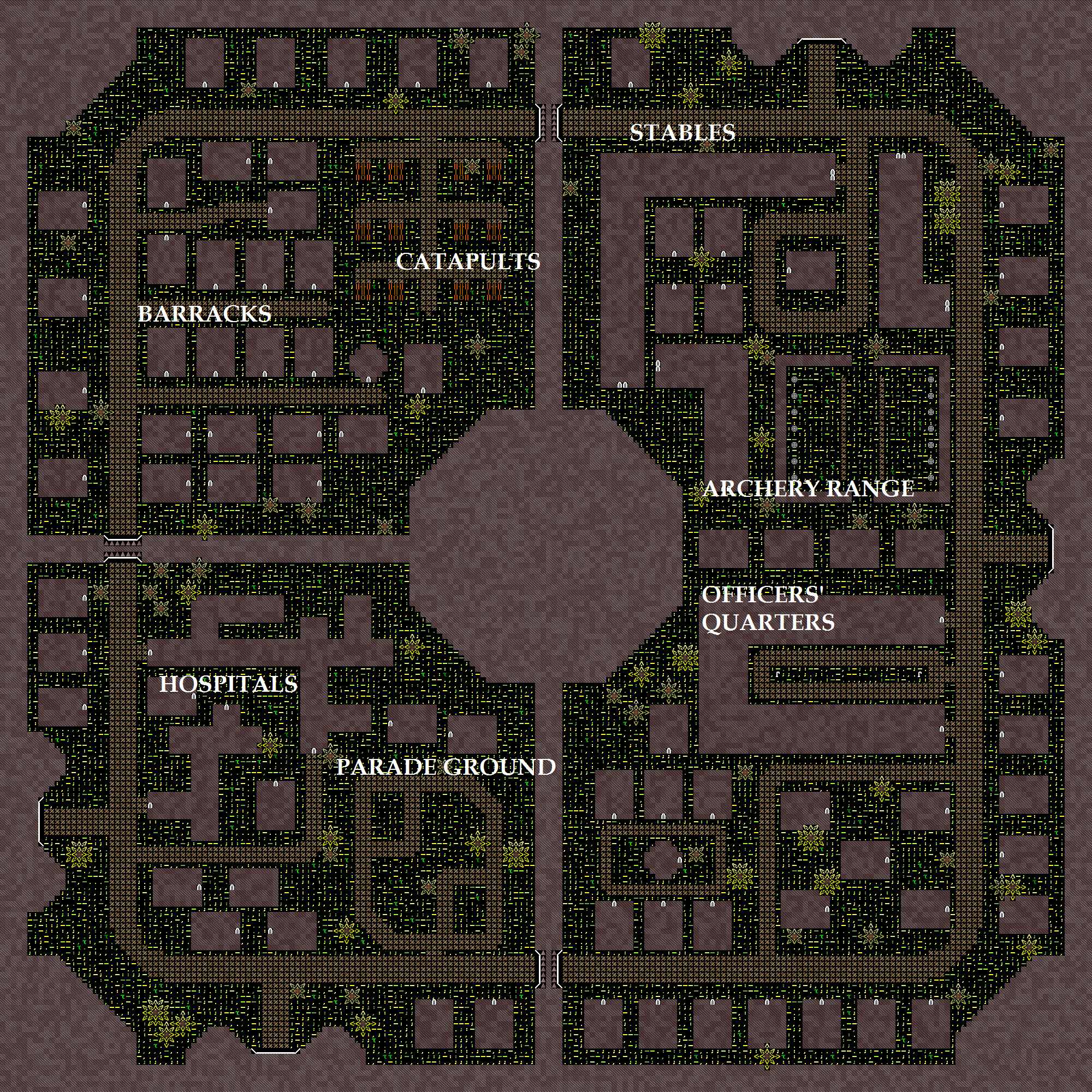 Archery Ranges and Siege Weapons are self-explanatory, and (currently) for decoration only (you can't raise stats by using the ranges or anything like that). All the others, however, will have gameplay use. Barracks contain troops, their beds, possessions, etc, and therefore may contain important NPCs. Parade Grounds are self-explanatory, and once we have NPCs in two versions time, you may be able to see soldiers marching around there in times of peace, or actively drilling in times of war (not sure how much variation it's worth thinking about here). Armouries are most certainly not decoration and will contain huge numbers of weapons if you can gain access to them, but will be well-guarded. Officer Quarters will contain high-ranking military officials, and possibly some expensive items too. Hospitals will contain a range of healing items and those able/willing to heal you for a price (or if you are a close ally of the civilization), and Stables, funnily enough, will contain lots of horses (though I am still working out how exactly riding is going to integrate with the rest of the game). There will also presumably be patrols moving around the outside ring road of the district in the future.
I tried hard to make each building recognizable by shape, which is something I've already been putting a lot of emphasis on with the different kinds of special building that spawn in housing districts (banks, theaters, arenas, etc). In this case stables are all right-angled shapes, barracks are a 9×7 grid, hospitals are more uneven, organic-looking lines and branches of building, officers quarters are a loop than encloses an area within it (or sometimes two areas), armouries are either octagonal or a number of octagons with a large gate at the front, while catapults and archery targets have distinct characters by which they can be recognized. The circular buildings – there is one in the top-left near the central fort, and one within a loop of road in the bottom-right – are the buildings that house training NPCs.
However, military districts have two restrictions on your entry – they are expensive to enter, and you must be very friendly with the civilization in order to gain access (or be playing as the player class which allows you to try sneaking into districts, though I am still figuring out the exact mechanics there). Starting in a civilization with a military district will therefore be a significant early-game boost, though I will try to balance this by giving significant value to non-militaristic civilizations too. I'm currently working on the lookup images for these new items. We already have archery targets: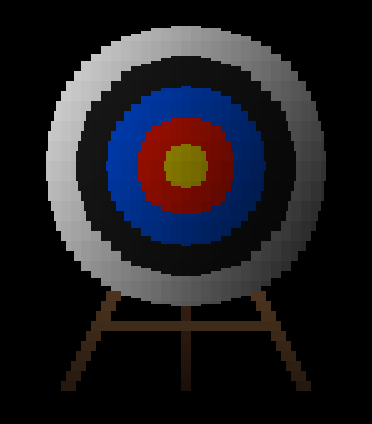 And I'll get siege weapons done soon enough. Along with city centers and upper-class housing districts, I want entering military districts to be a significant investment that makes you think about whether it's worth it for what you may find inside. However, these – along with markets – will be arguably the most valuable districts to explore, although market districts are deliberately free to enter. If you're low on money you can always check out a market district (assuming you can get to it within the city), but you'll have to think harder about entering those other districts. So, all that remains to be done here is siege weapon lookup images which I'll probably draw this week, and then as everything else we need some appropriate door graphics, but otherwise they're done for this release. Once I've got them finished off I'll be working on city centers, at long last. I'm anticipating a 0.6 release somewhere around mid November, which is also when I hope to finally start my full-time development year. In the real world I'm currently house-hunting (at last!) and hoping to move at the start of November, and once I am settled in the new place, that's when the full-time year starts. Updates as and when…