Hey all, and a late Meriadoc Brandybuck to you all!
I hope you all enjoyed the last few days and spent them with loved ones, and not on a 11-hour flight like one of my brothers :p Today I've got a small update for you. As some of you might already know, I've recently been involved in a new project, The Peloponnesian Wars. That mod is for BFME2, and I enjoy working on that. That does not mean however, that I have left T4A for the kath hounds, by no means!
Today I've been working, or rather, re-working on Morgon, the Captain of the Citadel Guards. The reason for this is simple: I am getting rid of the Captain unit for the various factions. They have no purpose in the mod in reality, even though they are Captains. I just don't think they fit as a single unit in the fighting. They are not that strong or unique, and I believe that heroes will be enough to keep the armies going. Because I liked the concept of the Gondor Captains however, I decided to add more of them into Morgon, who himself is a Captain.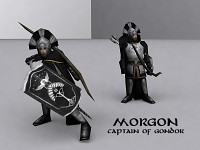 As you'll notice, he has a Sword-n-Shield\Bow toggle, something that I've always wanted!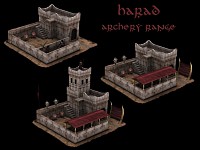 I was actually quite pleased with that, and hope you'll be too. I'll leave it to you to figure out yourselves what models are tied to which rank.
That's all for this time, you'll have to wait 'till next your for another update!
In the meantime, I hope you'll check out the main site!
Cheers