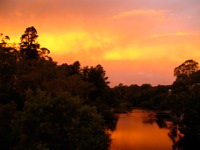 In February 2009, bushfires swept through the state of Victoria, Australia, killing 173 people (initial estimates were higher), destroying 2,200 houses, and leaving hundreds more people injured and thousands more homes damaged. 7,500 people were left homeless. That's a lot of people.
As a fellow Aussie, and having had my own close encounter with a (much smaller) bushfire back in 2003, I knew I had to help somehow. So I pledged half of the proceeds from sales of my indie game, Mayhem Intergalactic, to the Australian Red Cross's bushfire appeal, starting from the day the fires took hold (February 7th) through to March 14th.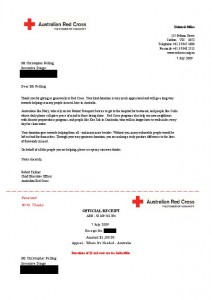 Due largely to the inevitable lengthy delays involved in getting money from distributors and having it wired internationally, and also to this little thing I've got going on called "final year of university" and a lack of fondness for doing complicated accounting (this was harder to sort out than you'd think), I hadn't actually done this until a few days ago. But now I have, which means I can reveal how much money we raised:
$1,055.02!
(in Australian dollars)
Wowsers! Thank you so much to everyone who chipped in!
Unfortunately the specific Australian Red Cross bushfire appeal which I was intending to donate the money to actually ended before I received the money (doh!), so I couldn't donate to it. Instead, I rounded up to $1,100 and donated the money to the Australian Red Cross's "Where It's Needed - Australia" category, that being the closest available. Mea culpa. I hope nobody is too disappointed about that. I'm sure some of the money will find its way to any bushfire victims who are still in need. Even if not, rest assured that it all went to a good cause.
Photo at top-right by Nick Carson.
What game is this?
Mayhem Intergalactic, a game with rich strategy, yet simple rules. Mayhem Intergalactic is a game which only takes 5-15 minutes per session, yet has enough depth and replayability to keep you occupied for hours at a time
In a nutshell, Mayhem Intergalactic is a turn-based 4X strategy game. It provides a streamlined version of the gameplay found in other turn-based strategy games, freeing you from resource micromanagement and letting you concentrate on actual strategy. See this earlier news post containing gameplay details, or watch the video below: