Last night's event in Leamington Spa was definitely an intriguing one. Organised by up-and-coming regional game network Gamecentral, it was a chance for marketers from all sides of the games industry to come and speak to an audience of interested developers.
I was asked to speak about our recent event at Gamecity to promote Frozen Synapse, so this is what I did. The audience seemed very receptive to what I was saying, which is always nice! I won't post the details of the talk here, as I'm currently writing an extensive article for Gamasutra which will go into all the details. I'll link that up here when it's done, but it'll probably take me a few days.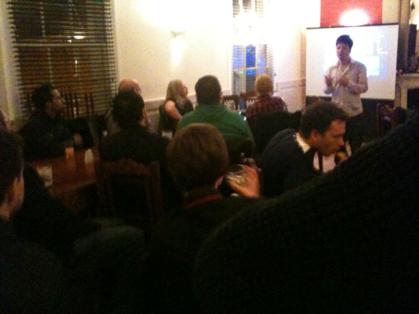 Me blathering on about something
The main thrust of my talk was that I believe indies should look at the marketing activities done by the big boys, and see how they can replicate them at indie cost levels. Just because you're a lone developer doesn't mean that you can't go to events and promote your product, if that's part of your strategy. It's all about doing things to get noticed, to keep putting your game in front of people at all stages of development.
As well as me, the audience got to hear from Siân Evans from Activision. Siân is a very experienced marketer who has run enormous campaigns for titles like Guitar Hero and DJ Hero: it was brilliant for indie developers to hear from someone like her.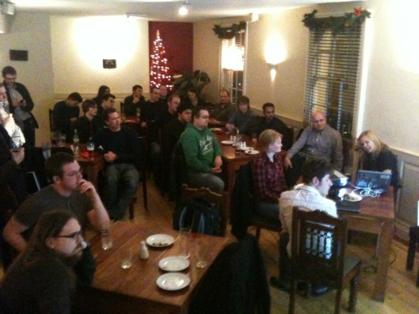 Siân Evans making me cry with her enormous budgets (far right)
She spoke about the importance of game quality, in contrast to recent comments and gave everyone an insight into the work that goes into a major product launch like DJ Hero. This was fairly mind-boggling, but I found that we agreed on quite a lot of things approach-wise which was heartening.
Also speaking was Oliver Birch, the head of Play Replay, a marketing agency behind a lot of successful digital titles like Burn Zombie Burn. Again, it was great to hear from someone with a lot of experience who is running a company focussing almost exclusively on supporting the work of indies.
Themes of the night included making your game visible as soon as possible: wait until you have something worthwhile to show and then show it to as many people as you can. Use all of the tools available to you (like this 'ere ModDB thing) to get your assets out there right the way through development.
Make sure that those creating the product and those marketing it are on the same page: even if you're not in a massive team this is very important. You have to understand what it is you're actually selling. Even in the corporate environment, passion and belief in a particular product matters a HUGE amount, sometimes much more than the budget involved: if there's no creative thinking then it doesn't matter how much money is invested.
We all agreed that indies need to be using every opportunity that becomes available to them and talking to other people in the industry. This is something we definitely didn't do enough when we started making games, and I think it's very important. Through communicating with people at events like this, I've learned so much about the mainstream industry - having never worked inside another games company, this information is invaluable.
Another point was that all of your marketing efforts need to be ongoing and well integrated - your blog should tie into your Twitter feed which should tie into the screenshots you release etc. etc. It's simply a matter of generating really compelling things about your game, then screaming about those things as loud as possible.
I mentioned also that people tend to over-emphasise PR and under-emphasise advertising when it comes to indie games: advertising is completely vital and can be very effective if you do it properly. This is probably my biggest area of interest right now, as it's extremely technical, and I'm simply looking to learn as much as I can about it.
The work that organisations such as Gamecentral are doing on a local basis is vital for our industry. Big thanks to all involved, and I would urge all of the developers on here (even modders) to get involved with any local game networking groups. Don't worry that you won't "fit in" - people in the games industry love hearing about weird projects they know nothing about!
(Photos stolen entirely from Jason Hall - hope you don't mind, Jason!)