The three leads that I have appointed have kept me quite impressed. Nandeep Mali, Chair of the Testing Team, has been diligent about his role in quality assurance; Mike Newall, Lead of the 3D Artists, watches over a large portion of the work that is needing to go on within the team; John Ingato, Lead Level Designer, has been plugging away with his team of fellow artists. The team is growing pretty quickly, but we still need some help.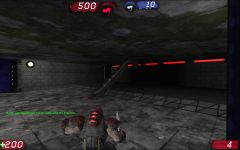 There are a number of roles that exist in our team that still need attention. If you have any experience you could possibly share in the roles of Animator, Programmer, Artist, Level Designer, or anything else for that matter, please shoot an email off to info@whitemod.com. We will get back to you as quickly as the internet permits.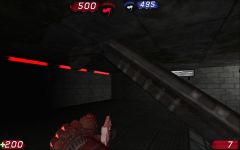 Our previous release was quiet and passive, trying to get a solid foundation on which to build this game. As such we left quite a bit up to the world to figure out. You could consider this to be a user study, to test the intuitiveness of our game, and apparently we fell short.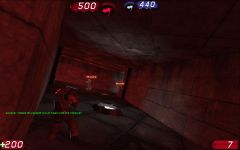 Many questions were sent to me about the nature of the game types, and so I will share an excerpt from our design document and see where this takes us. Stefan, a fellow programmer, has released a video that is attached to this mod, showing the way the gameplay works within Govannon.
TERRITORIAL
A number of zones will be noted on the map, each with its own award value and achievement. The zones are initially free, but when a player moves into it a timer is started. The player captures the zone when they have stayed within the confines of the zone and kept the opposition from entering it.
When a zone has both sides in it the timer is halted and restarted when the zone is again only inhabited by one player's side. In the occurrence of trying to capture a zone that has already been captured the opposition may have to wait a longer period of time to take control. With each zone that is captured your team is given further advantage over the opposition, who will quickly lose their militant backing and have to go to another location for a part.
Each team starts out with x number of respawns or resource points and forfeits them as they progress through the game. The team with 0 respawns is forced to regroup and assault another location. You can look at this as a bit of the economics of our game, where the team only has x amount of resources to expend on this battle. This amount may vary depending on the map.
The mappers are given a number of configurable options for each of these zones, including the number of players to capture and the length of time they need to be within it in order to do so.
PUSH
An extension of the concept behind territorial, Push is a linear battle where the teams capture the zones in a mapper defined order and eventually collide somewhere between them. Another point of interest that sets this apart from the disorganization of the territorial game is the Tram, which is a logistical machine that carries troops and materials to the forward lines.
There is still lots to be said, but brevity is something I cherish. I will now hand the floor over to Mike Newall.
Well, where do I start? The past couple of months have been hard work, but extremely fun. This is my first experience working on a mod and I am thoroughly enjoying it. We have only been working on this project for a short period, but we have come a long way. As Bob said, the response to the mod has been great. I am glad we decided to release the Alpha as early as we did, in spite of the show stopper Nandeep unearthed. It was touch and go for a while, but instead of pushing the release back we let the world see our first draft, and shockingly enough no one has seemed to notice it.
Over the last month most of my time has been devoted to weapon models. All of the models are in game at this point. I have been working with Stefan Schwarzien, our resident weapon programmer, to implement them all. It would be great to hear back from you all about your thoughts about the designs textures and so forth. Leave comments on them or send us an email.
Our team is bent on monthly releases, primarily to allow you all to give us feedback along the way. Our quick iterations allow us to fold in ideas and clean up issues in a fashion that other mods aren't offering. Our team is greatly talented and diverse, literally spanning the globe, so if you have questions you should hear back from us promptly, and even if you don't... send us a love letter, and include some cute panties. You will be sure to get a response either way.
This release is focused on the weapons, implementing many and providing a few tweaks to the ones we already released. This release also features a large number of changes to our maps, including AI Pathing, Textures and Many New Models. We have worked quite hard and look forward to hearing from you.