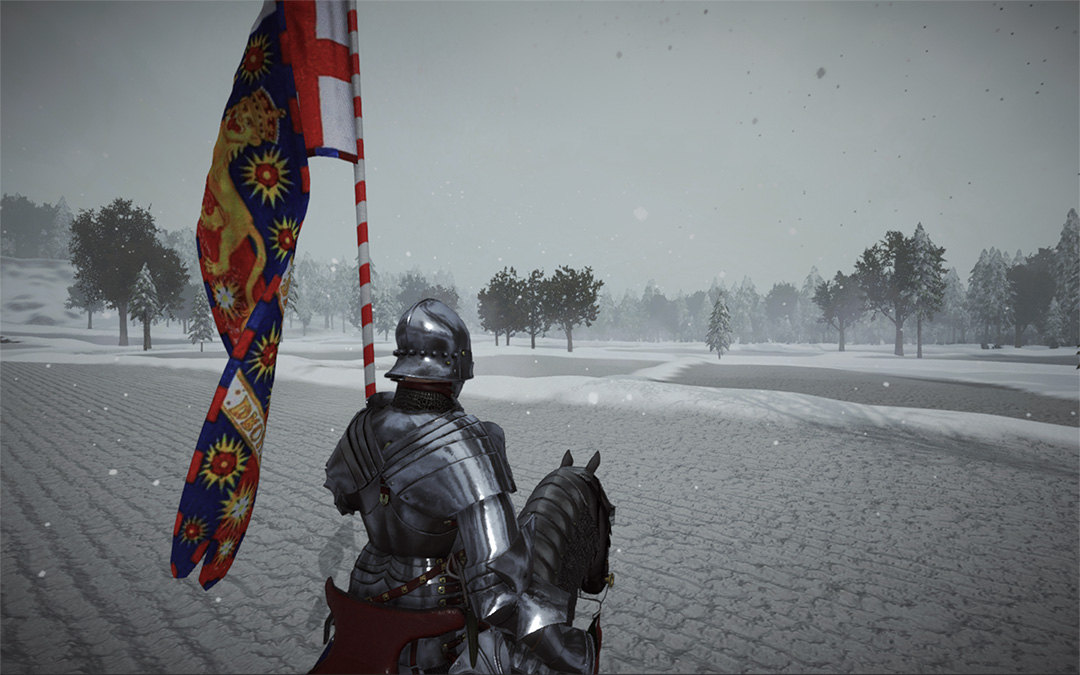 Hello everyone, and welcome back to another historical blog for Dell'arte Della Guerra. Today we'll be talking a bit about the English Men-at-Arms, their way of fighting and also how you will see them represented in our game.
The term 'Man-at-Arms' in English refers to armoured cavalry. Many were knights but unlike knight which is a social class, man-at-arms is a battlefield designation. One did not need to be a knight to serve as a man-at-arms however and esquires as well as wealthier freemen would also serve in this role. Since the Statute of Winchester in 1285, every man who owned a certain amount of wealth in land would have to own a horse and armour to serve as a man-at-arms. In many cases, holding a significant amount wealth also meant that one had to equip additional men-at-arms proportionally. While the Statute of Winchester is well old by the 15th century it was still principally in effect, even if supplemented with newer regulations wherever necessary.
During the Hundred Years War the english men-at-arms principally fought on foot. Combined with a mass of archers, as mentioned in the previous blog, the men-at-arms would often take the center of the formation with archers on either side. This formation was also the one used in the famous battle of Agincourt, among others. This also led to the armour present in England to develop principally for this role, and this is especially notable on English armour from the first half of the 1400s. However by the time of The Wars of the Roses, where this mod is set, things had begun to change.

The style of warfare which made the English effective in the HYW served significantly less use in a civil war where both sides were well accustomed to such ways of warfare. This led to a development back to where English men-at-arms once again began to fight primarily mounted. With the addition of regular infantry which had been largely absent in the previous decades, the men-at-arms by our period have transformed from the heavy infantry backbone of the English army back to being principally heavy cavalry. The armour has therefore also begun to mirror this, with the foot-optimized configurations of the previous centuries slowly giving way to armours more optimized for the use on horseback. However English armour in the Wars of the Roses still retains many unique features which separate it from most of the continental armour, which also was imported into England primarily from Flanders and Italy. There will be a blog going into more detail on the styles of plate armour found in England in the future.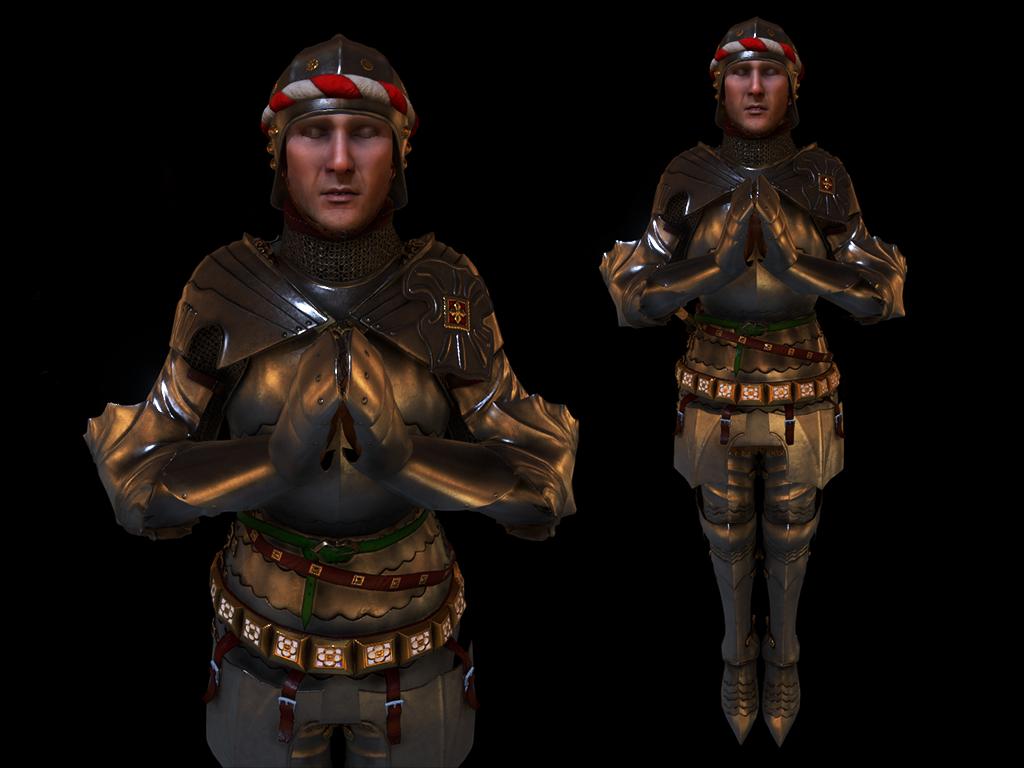 based on Harcourt Effigy, Reputedly Robert or William, 1480's
While most men-at-arms wore full plate as they were required to own this by law, brigandines were also not uncommonly picked. Often a more comfortable alternative to a plate cuirass high-end brigandines would still retain a high degree of protective ability. They could also be gilded and covered in expensive velvets. Not only knights but also lords could wear these, and we have explicit mentions of a brigandine ordered for Edward IV for example. Wealthier knights and lords also liked to show off their wealth by gilding their armour and wearing plumes with decorated plume holders. To what degree this gilding was done is hard to tell due to a scarcity of depictions from England in this period, but the accounts do make it clear that this practice was present, and you will see this on the battlefields in our mod as well.

While the fashion of wearing surcoats without heraldry was out of fashion in England at this point, one will still see heraldic such worn by the more notable lords. Most other men-at-arms would wear their plate bare however, unlike in France and Burgundy where the practice of wearing surcoats with plate armour was still very popular.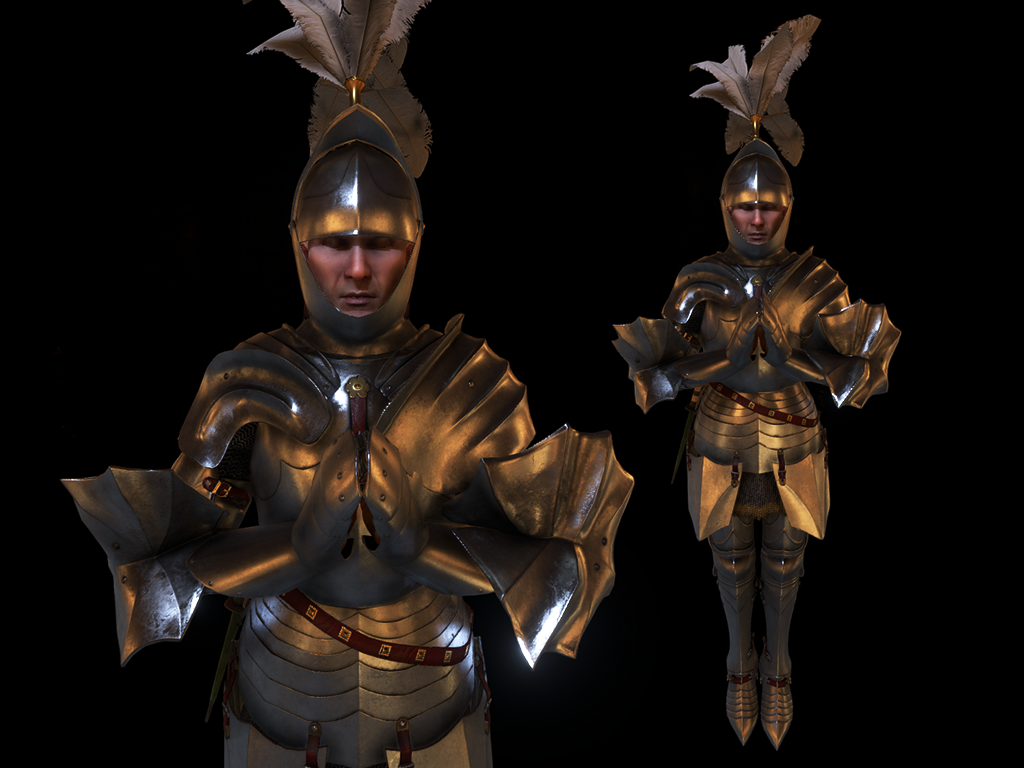 based on brass of Richard Quatremayne, 1460's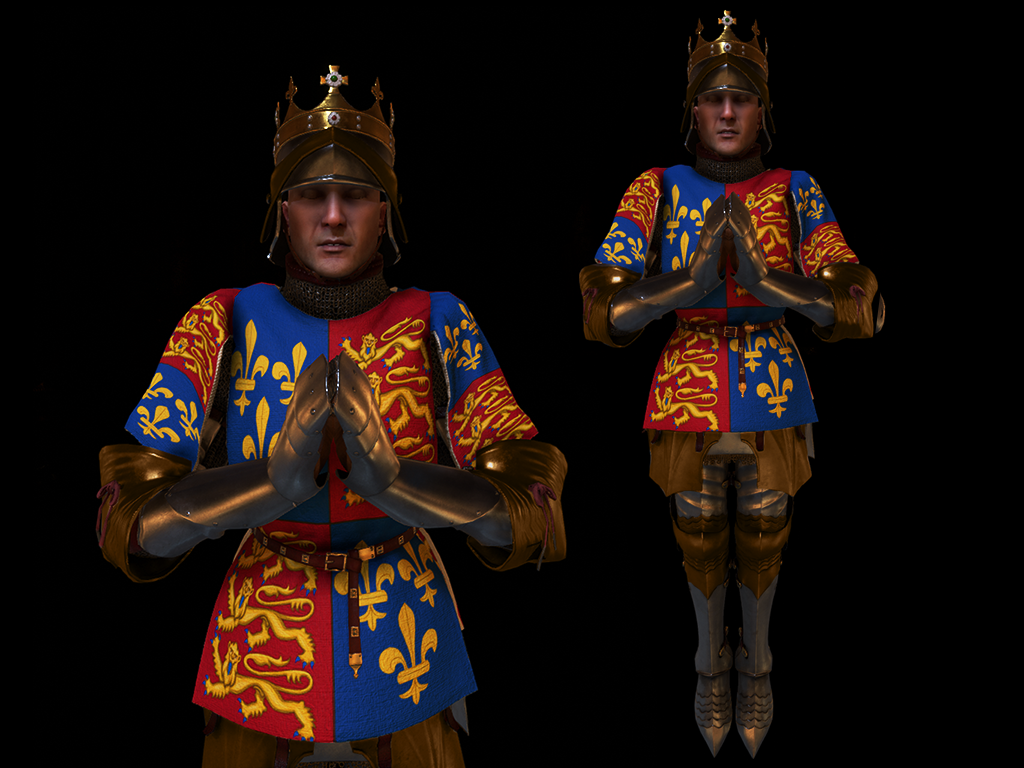 Edward IV with royal coat of arms on the tabard
Moving on to weapons, there's quite a few that would be wielded by the men-at-arms. Initially they'd have lances, and it goes without telling that the lance is one of the principal weapons of a knight. For fighting on foot the knights would often also bring pollaxes, both ones with hammer heads and ones with axe heads being popoular. However lances could also be used dismounted and would sometimes be cut down for this purpose. Besides the lance and axe a man-at-arms would also carry on him a sword and a dagger. While longswords seem to have been the most popular form of sword for knights on the continent, English knights tend be shown with a decent amount of one-handed swords as well. Other weapons such as maces or hammers could be carried in addition to the rest, primarily as horseback weapons. While shields were less used than previous centuries, one still does see knights wield targes on horseback in this period.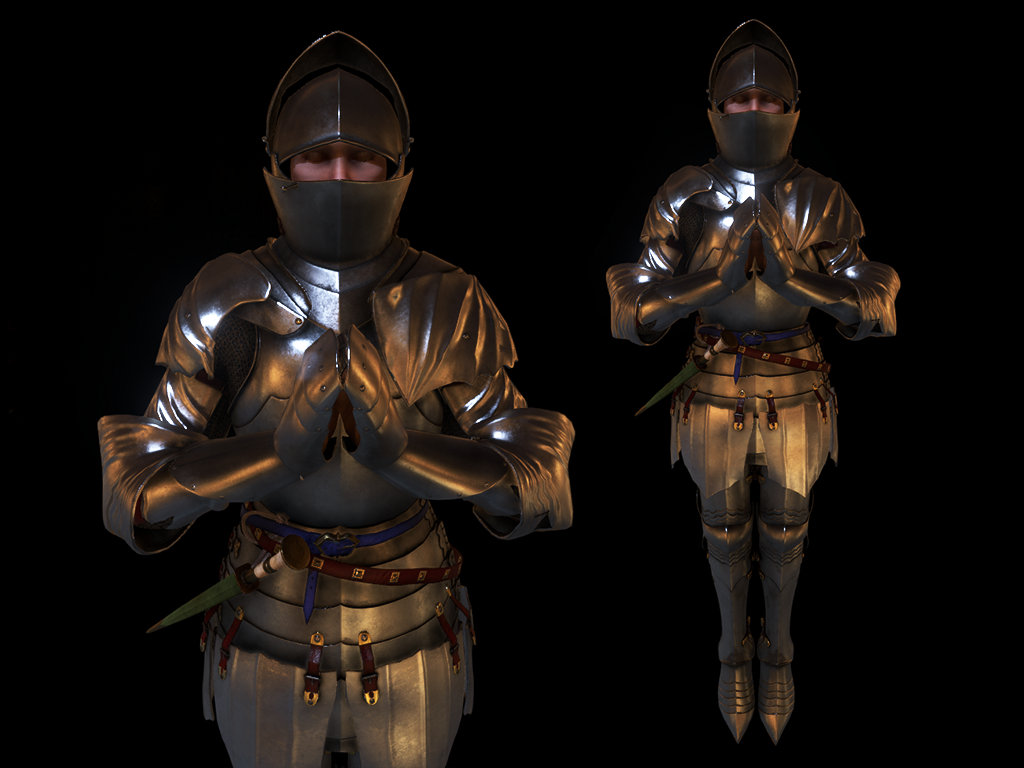 based on the effigy of Robert Hungerford, 1460's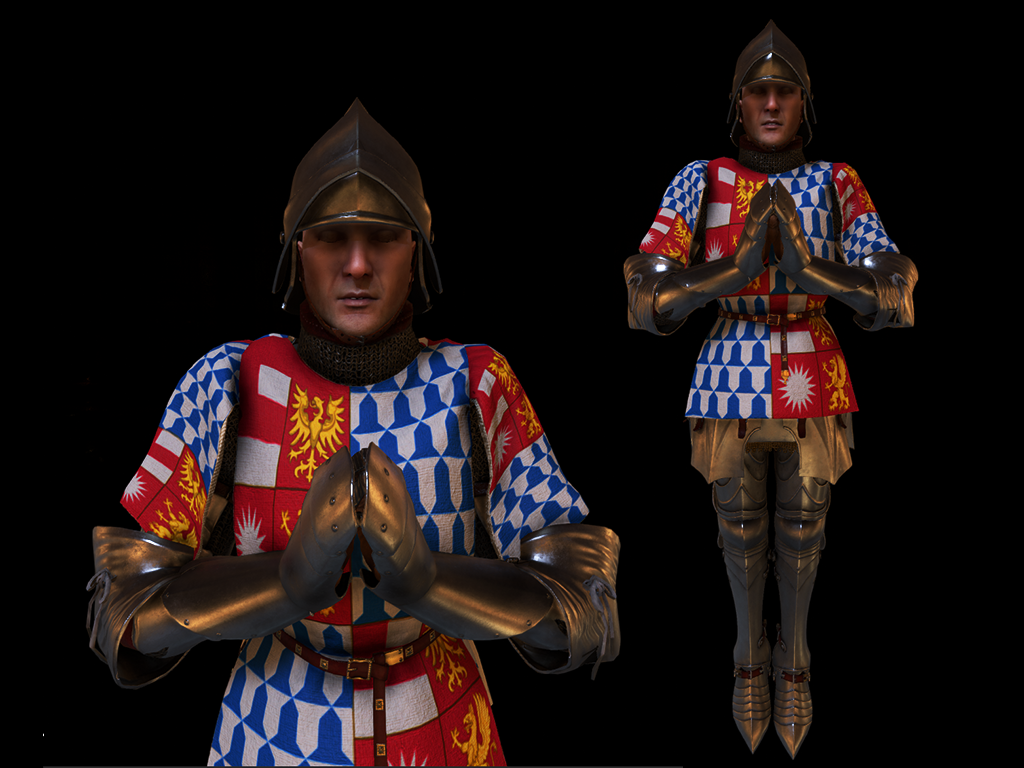 Anthony Woodville with his coat of arms on the tabard
Our mod will feature this large array of weaponry. Unfortunately since there's no way to currently get the AI to utilize mount & dismount commands effectively, the men-at-arms trees will likely end up split up into two parts with the functional difference being that one's dismounted and one is not. The dismounted men-at-arms will wield mainly pollaxes and swords, while the mounted ones will prefer to carry lances, swords, maces or hammers and sometimes shields.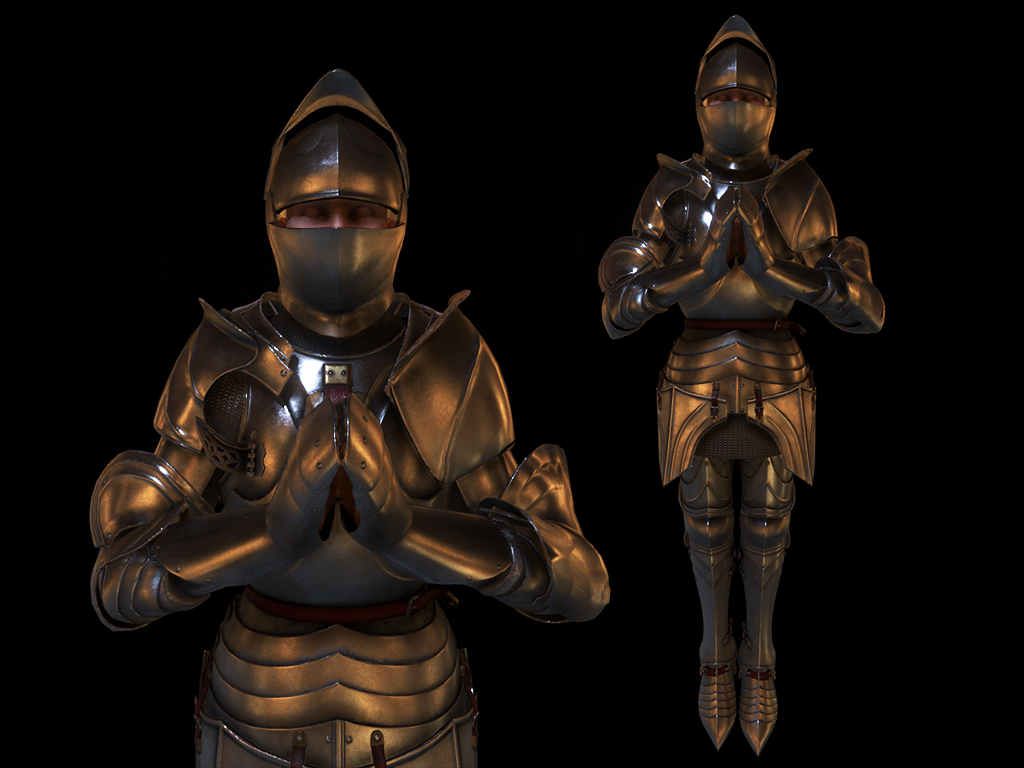 based on the effigy of Richard Beauchamp, Ca 1450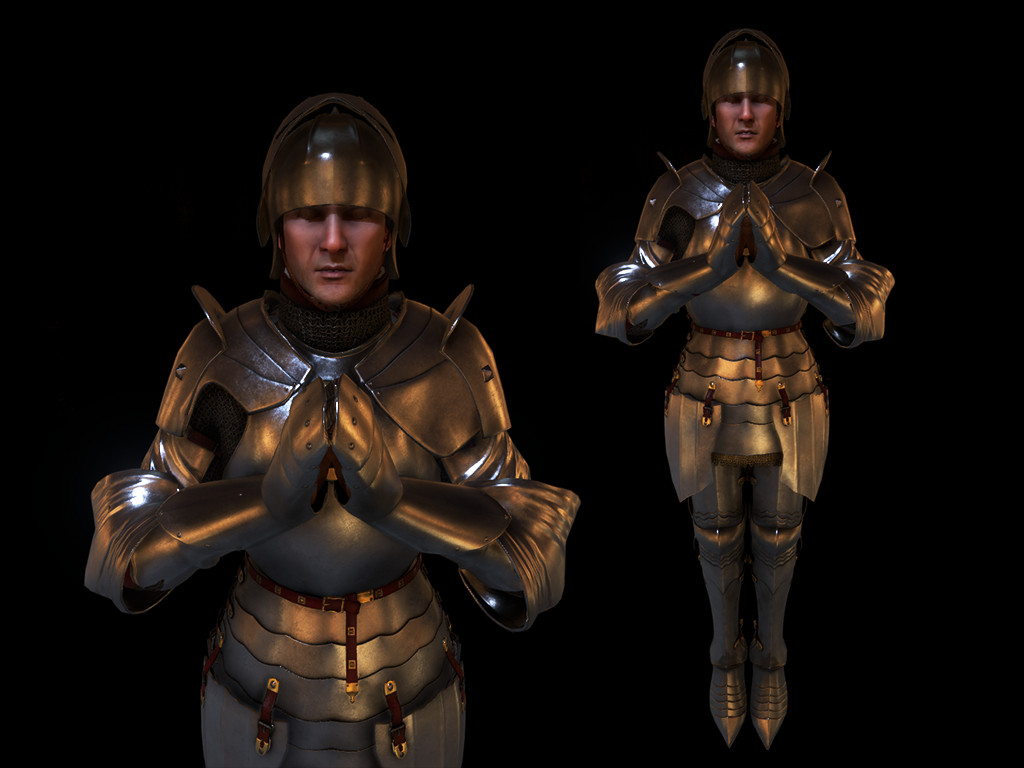 based on the effigy of Ralph Fitzherbert, 1480's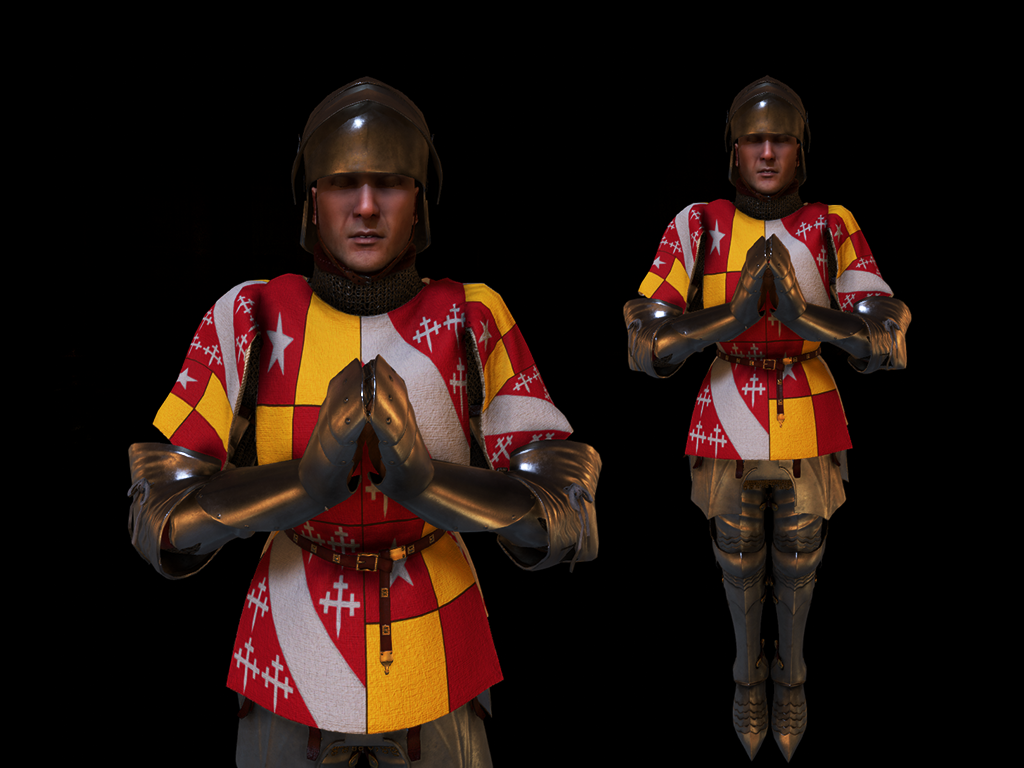 John de Vere with his coat of arms on the tabard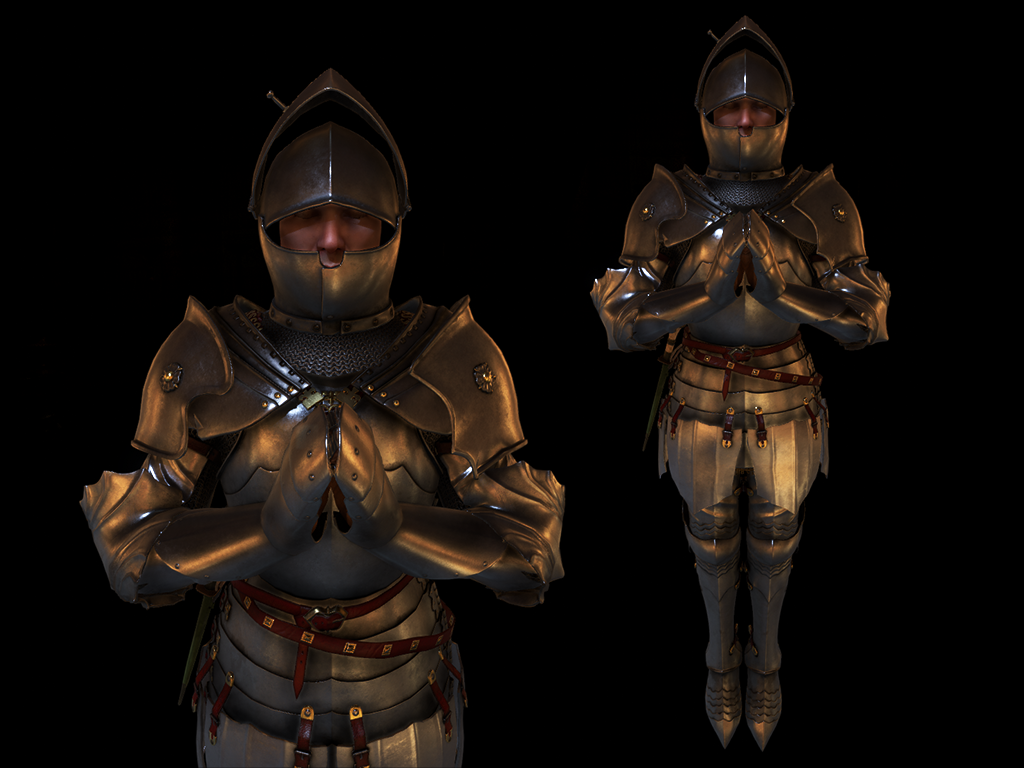 based on the effigy of William Ryther, 1470's
We hope you enjoyed reading this blog on the English men-at-arms. As usual if you've any questions about things you see or read feel free to ask them in the comments and we will try to answer them to the best of our ability. Take care, and we will see you next time with another blog!