The third Chapter is finished!
This is a chapter you will definitley want to check out, it adds more to the story, giving more reasons of why Dwenguil (the robot you play as in the first 2 chapters) was sent to Khaugin in the first place. Aside from that, there are also some new Characters!
Introducing "Barloc" The protagonist of Chapter 3: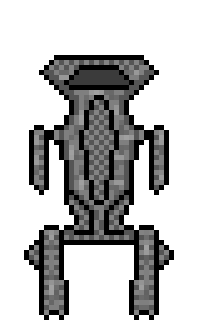 This is the character you will be playing as in Chapter 3. Barloc was designed as a Warrior, and more of an assistance for the Repair Bots. Even though Barloc doesn't have any special modes like Dwenguil, he does have 2 weapons that he can use against any threat.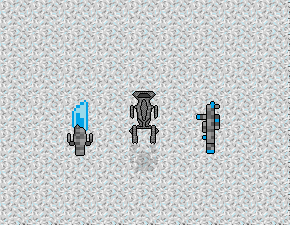 As you can see in this picture, there are two weapons next to the character. The weapon on the left is the "Scythe", with this weapon, Barloc is able to quickly kill the enemy, but is meant for close combat. The weapon on the right, is the "Blaster". This weapon is pretty powerful and can kill hostiles from a far distance.
During Chapter 3, you uncover huge discoveries, but those discoveries are for you to find out!
I am currently working on Chapter 4 now so be prepared for some updates, and enjoy the third chapter!