I'm Arvind – the guy who programs and designs the A.Typical RPG. A wise man once said to me, "You might want to consider jumping down from a taller building than that." But that's not related to what I'm about to discuss. This is a developer diary we'll be doing in order to persuade you guys to vote for us in the Indie Overlords and Supreme rulers Indie of the year contest.
Firstly, I would like to point out that it would be great if you voted for us in the Indie of the year awards. Click the button below, then click the "Vote" button on the page. Thank you very much.
So while you would do well to see this post as a plug to win these awards, I'm also about to discuss the thing we have been teasing to our followers on twitter (hint hint). In case you didn't get the hint, it means FOLLOW US.
One of the in-game scenarios features something like hide-and-seek. Imagine this – what is the first thing that comes in your mind when you are sneaking inside a girl's dormitory, only to gasp in horror as the warden steps into the room? The stakes are high – you can be expelled from college, or be shamed in front of the girl you fancy! What do you think?
If your answer was along the lines of "Hmm, this situation can feature in my game.", then we think alike.
Here's a screenshot of the complete disco level. We tried to show you more of the disco and another level, but this guy won't allow us.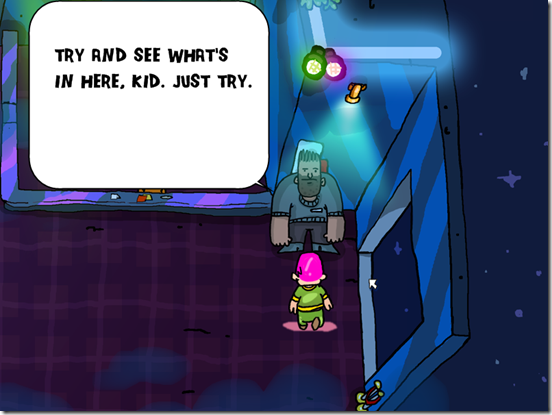 He totally said we can show you more in the next update we'll be posting before this week ends. The guy is *such* a charmer.
The entire team will be posting in this series. See you very soon!
And last but not the least, I am super duper pleased to announce that Jesse Gunn (StaticKinect Studios is his website) is our new audio designer. Thanks for the lots of applications we received, all of you are so awesome. He'll be posting some sweet audio bits soon too, keep watching! That's it from me right now, and to remind you fellows once again –
Vote for us in the Indie of the Year awards!
Follow us in these cyber-places too!