Hello I'm lorul1 creator of Battles of the Storm. Welcome to my Assault on Theed Alpha project for Star Wars Battlefront 2 2005 !!

Making Battles of the Storm was so much fun and hearing everyone reaction to size and scale of the battles was an awesome experance.
What made Battles of the Storm good was that you were a single unit placed in a 100+ vs 100+ battle and you really get a sense of all out WAR.
All out war is what I do best !!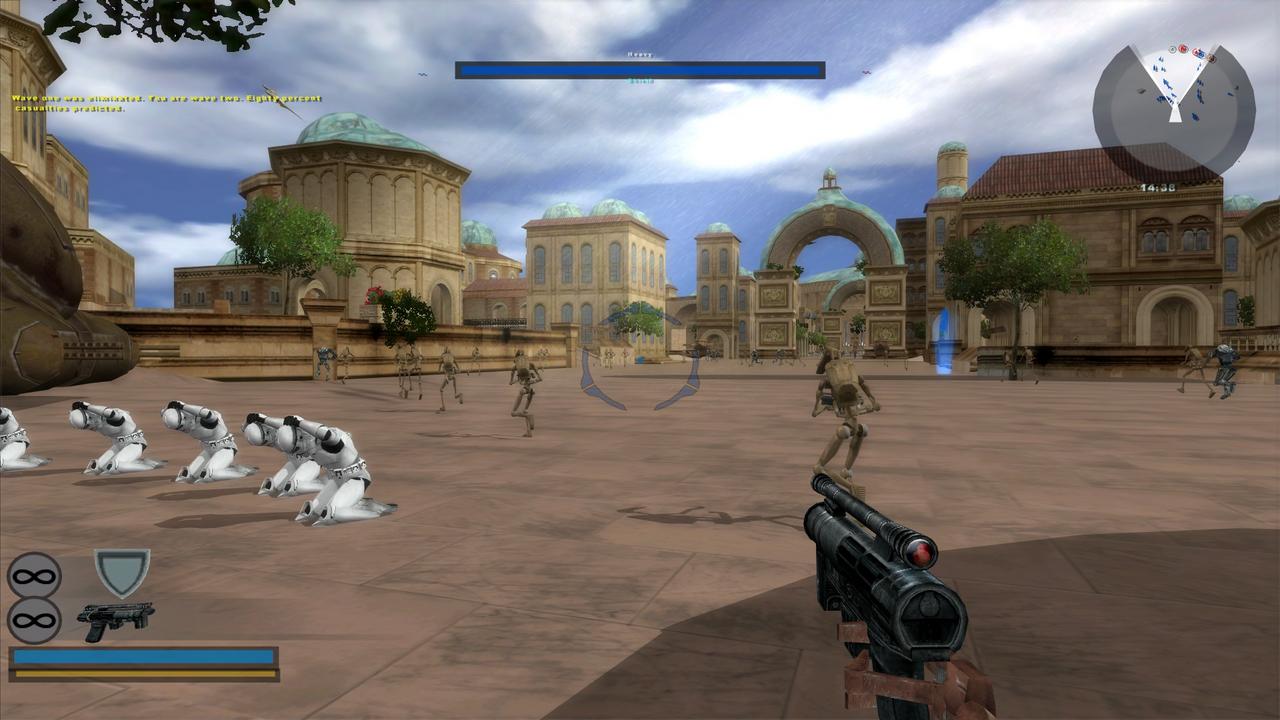 After watching and playing battlefront 2 EA, I was impressed. Of course EA did well with graphics and sound design again. But one of the biggest problem that I saw some of there maps is that the unit count doesn't seem big enough ... it wasn't a war. When I think of the clone wars I think of the thousands of clones battling on Geonosis, or the hundreds of droids storming the beach of kashyyyk with so many laser and missiles everywhere. Star wars battles especially clone wars battles ARE over the top, chaotic , and have hundreds of clones. As of right now EA's Theed seem's ... empty. Which is why today you have the ability to play on my assault on Theed map with 100+ clones holding off and invasion of 100+ droids. This makes for over the top chaotic battles. I mean isn't that what an ASSAULT should look like ?
Hopefully EA will add an "XL" or "battlefield 1 operations" type mode at some point, but I the message to DICE and EA is that we want large scale clone wars battles JUST like we saw on TV and in the Movies ! We want to be IN the battles and that means chaos and scale (bigger maps and higher player and vehicle count).
DOWNLOAD FROM HERE :
or from here ... Gametoast.com
---
KEEP IN MIND !!! - This is an UNFINISHED and UNSTABLE map. I made it in TWO months ! but once you get your hands on it and actually play the map just know in one more month the beta should (theoretically) be twice as good. I CAN NOT STRESS ENOUGH that I will literally be releasing an unfinished version of this map I'm making.
(but lorul1 WHY RELEASE UN UNFINISHED MAP ??? - Because I want people to play it before EA's Beta. This will also give people an opportunity to suggest ideas.)
THIS IS NOT A REMAKE PROJECT LIKE Battlefront 3 legacy.
"I don't know how authentic it will be to EA's battlefront 2 - this is a short 2 month project where I try to get close to EA's battlefront 2 and add in the cool stuff that they will probably wont add (ground to space, crazy unit count, etc.) because they are secretly saving it for Battlefront 3 EA which will release when Episode 9 comes out (calling it now)."
Enjoy Guys (: