Lord of Dwarves started as a hobby project in 2013. I soon found myself working on it way to much to call it a hobby anymore. So a short time ago I decided to upgrade from hobby project to indie game. And here I am, to tell you all about Lord of Dwarves!
Lord of Dwarves is a city management game where you task a band of dwarves to gather resources, craft items, and build huge structures. It is set in a fully 3D voxel world and allows for custom construction & destruction of every block in the game.
I started making Lord of Dwarves with a few key features in mind.
Easy & Epic Scale Building
In Lord of Dwarves you can easily click and drag to edit a huge selection of blocks. A few simple clicks and your dwarves will have orders to build a massive structure. Task your dwarves to build anything you imagine!
Monster Sieges
What's the point of building an epic castle if you cannot test it against hoards of rampaging orcs? Lord of Dwarves supports sieges where monsters will test your defences. They bring ladders to climb your walls, tools to breach your floors, and axes to find your dwarves. Archers to the walls!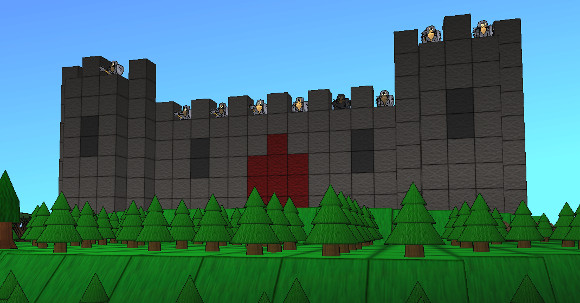 Campaign & Sandbox Mode
In the campaign you will complete a series of levels each with a specific goal. Whether it is to fend off marauding goblins or build a basalt tower that reaches at least 30 blocks into the sky, the campaign goals reflect the essence of what Lord of Dwarves is.
A sandbox mode is equally important allowing you to customize all the parameters of your game. Prefer to take it easy and see what you can build? Turn down monster spawns or turn them off entirely. Sandbox mode allows for extensive game customization.
Lord of Dwarves is currently in development and many of the core engine mechanics are already in place. I'll be posting updates here regularly.

Find out more about Lord of Dwarves at my website www.lordofdwarves.com