Intercom: Comrades! Comrades! The premier has requested you all come to the media room immediately!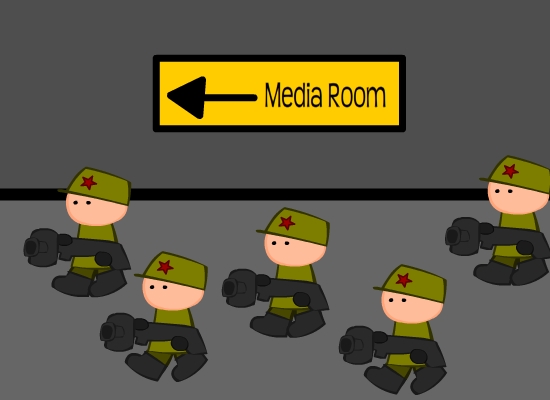 Premier: Ok comrades, good to know you're all seated. Now, today is a very special day, because today, is a media blowout!
Chinese Soldier: But Premier, what is a media blowout?
Premier: A media blowout, comrade, is a day where I reveal to you, the viewer, some things about the
upcoming game, Lol War: The Commie Theater!
Chinese Soldier: Wow, we must have a very generous Premier for him to generously let us view this information!
Premier: Yes I am generous, now stop sucking up, shut up, and listen!
Ok, comrades, first things first, we must share how a person will make the money in this game. The answer: Money tree's! Yes, money trees, it turns out money DOES actually grow on them, and these money tree's will be our main source of income during this war, they are conveniant, and you can safely extract the monies off of them.
There are two types of money tree's:
Regular Money Tree: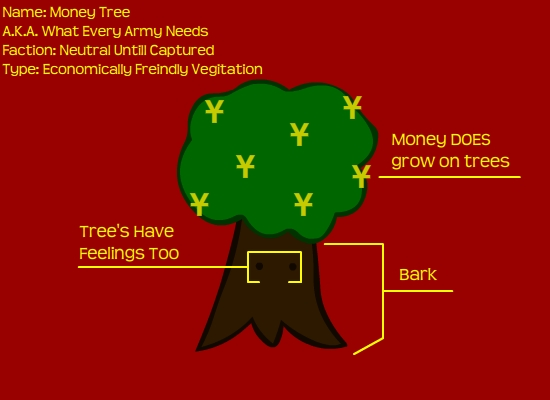 And Silver Money Tree: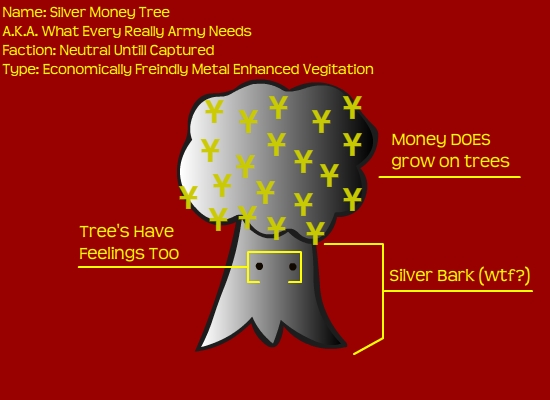 As you can probably tell, silver money trees are more valuable then regular money trees. Also, these trees are shown in their form when they are captured by Chinese, the currencies change when Russians capture the trees.
Of course, these trees need somebody to capture them, and China and Russia know this, but China got a head start today by reveiling their capturer first, the Chinese Businessman!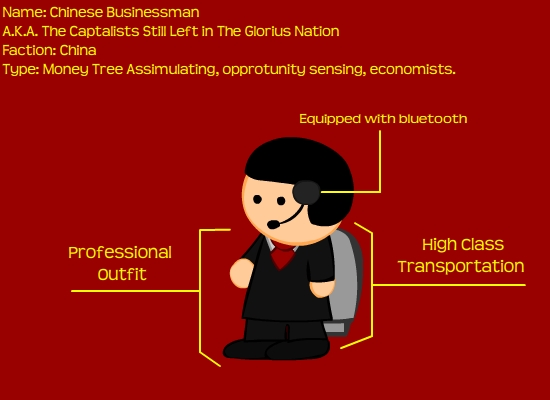 Seems as if China finally put to use those annoying Hong Kong captalist pigs, am I right, comrades?
Now, we I only have one more thing to share, and that, you might've noticed if you've had a good eye, but taking it that nobody has posted yet, I'll assume that you all have bad eyes. What am I talking about? I am talking about the Lol War: The Commie Theater Forums! There you can post things, talk with fellow comrades, and give critiscism and suggestions to the game so far! To access it, click the forum tab in the list of tabs for this game up there.
Ok, that's al-
!!WARNING, WARNING, NEW COMBAT UNIT DETECTED!!
What's this? The alarm! Settle down comrades, it's nothing to fea- Oh shit.
The Russians have just revealed, the Motherland Tank!
We've only got this picture to show you, comrades, but it's enough to show you what we're dealing with: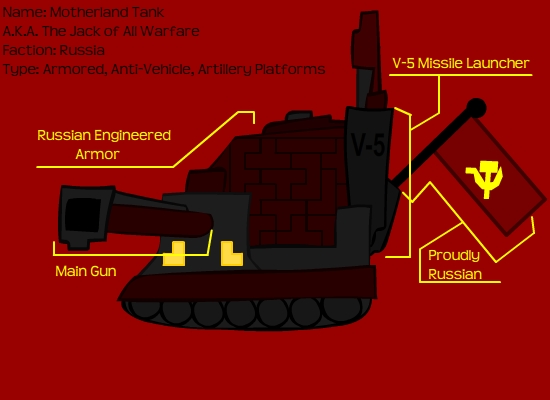 Hmm... By the looks of it, this tank's more then a match for any situation, it's armed with artillery, and a flag! Oh, also, it's got a cannon, but seriously, the flag's more intimadating.
Anyways, that's all for now, comrades. I know, exciting blowout, amirite?
Chinese Soldier: NO YOUR NOT!
Premeir: Gaurds, teach this comrade a lesson about inside voices. Anyways, for unit profiles and more, go check out the full Mod DB page for this game!
May the motherland give you it's blessing, comrades.