Converted from a civilian cargo sled, the Platoon Attack Craft is a speedy, lightweight utility transport born out of the Trade Federation's collaboration with Baktoid Armor Workshop shortly before the Blockade of Naboo. Its modularity and resilience has allowed it to serve the members of the Confederacy of Independent Systems from well before the Clone Wars up until its climactic end. Designed for quickly transporting large amounts of battle droids across intermediate distances, the PAC is unarmed and lightly armored and was often deployed alongside MTTs as a quick-response element. Piloted by only two battle droids and repulsorlift-driven, the PAC can swiftly and silently swoop in on the front line, quickly deploy a full battalion of battle droids and be gone before the fight even starts.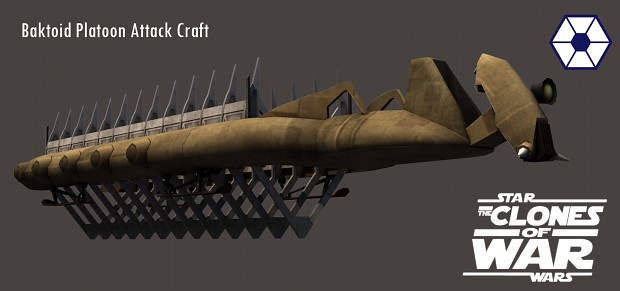 First, I'd like to say how happy I am with how this texture has turned out. I've always said that I can't texture for crap, but these last weeks have been great practice and I feel I'm finally getting the hang of it! For one, you'd definitely notice a difference in my UV maps XD Something that's really interesting about the PAC is that no source actually elaborates on how incredibly efficient this vehicle is. If I was a separatist commander, I'd shoot everyone who would even dare suggesting requisitioning MTTs for our troop transports. But alas, these are opinions and the movies portray the MTT as the main infantry carrier, so we'll have to find some way to make it that in-game too !
What am I talking about? I'm talking about how every source on the internet incorrectly states that the PAC carries an equal amount of battle droids as the MTT and none mention the other awesome elements of the PAC. I have pointed out several times that the movies are absolute law when it comes to canon. Of course, we can't always 100% follow canon, but here's something that's interesting to talk about!
Observe.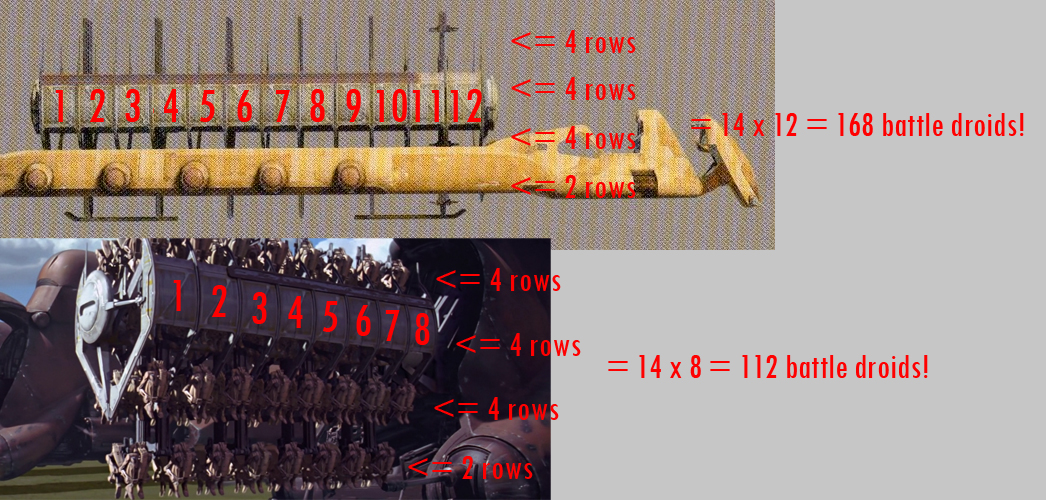 I'd say that's a substantial difference, yet every source on the internet seems to not have noticed. Heck, even the books where the wikis draw their information from say the PAC also carries 112 battle droids like the MTT. Odd. This is a beautiful example of how the movies are law in terms of canon. So 168 battle droids it is!
... Right?
Well, in Revenge of the Sith things change dramatically when for a few measly frames we see a Platoon Attack Craft casually drift onto the beach at Kachirho in the middle of the battle and stroll along off-screen! These droids were not folded in racks! But there definitely seemed to be a rack!
Observe.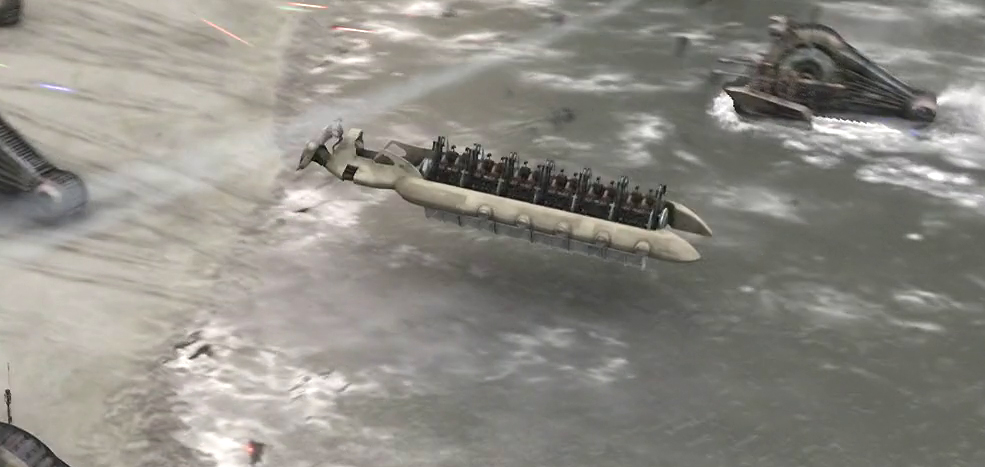 Note how the droids' heads are extended, these droids seem to be loaded in battle-ready position! And next to that, there seem to be a lot less of them. The droid rack also seems less deep than in Episode I. It's unclear how the loaded droids would be deployed in this configuration. I always assumed that the rack would lower itself slightly and then the droids would be deployed like from the MTT sequence. Another subtle but curious difference is the omission of the co-pilot. Overall, the vehicle seems more balanced for a multiplayer environment and a lot more practical! Deliberations, deliberations, it never ends!
So let's sum it up and compare the two:
MTT
- Extremely heavy armor, durable. Able to deploy closer to the front line.
- Longer operational range due to size and thus more storage for fuel and/or crew supplies.
- Able to plough through forests and virtually any natural obstacles. Able to ram through fortified walls.
PAC
- 50% more carrying capacity in terms of battle droids.
- A lot faster.
- Requires only two crew members.
- Is significantly smaller and less technically complicated, thus needs less maintenance.
- Presents a significantly smaller target.
- Probably cheaper to build.
- Doesn't have to wait for slow, heavy doors to open, thus has a much shorter deployment time.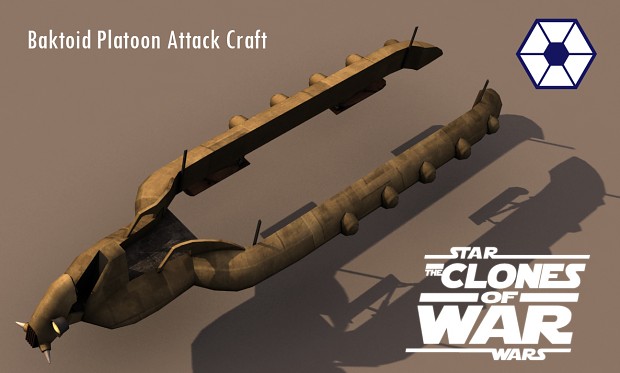 So looking at the list, I guess both have their uses. But overall, I'd say the PAC is more efficient, especially considering how much easier it has to be to build them compared to an MTT. In theory a PAC could, under cover from AATs or other vehicles, just glide into a battlefield (kinda how it EXACTLY did that in Revenge of the Sith), deploy its cargo real quick and be gone again!
The thing we're probably going to have to focus on is the operational range. Remember that the MTTs deployed on one side of the planet and several days later arrive at Theed! Though, its really unclear how much time has passed since the landing and the occupation of the city. Saying that the MTT has a 'longer' operational range is probably a big understatement though we cant ignore the fact that there were still PACs gliding alongside them. I always thought it was pretty funny how Obi-Wan and Qui-gon still managed to arrive later than the droid army, who took the long way around THE ENTIRE PLANET. Perhaps we should reflect that by making the PAC faster, but have less fuel. That would give the MTT a logistical advantage and in some way, make it more suitable for front line deployment. We'll have to find out when we start testing. Though, any ideas are welcome! One thing I'm very certain about is that the PAC will at least cover the logistical needs of the Separatist players in terms of fuel, ammo and utility supplies and so on.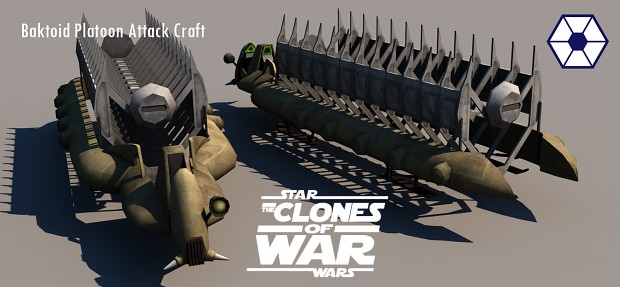 To conclude this rather silly debate (?), I would like to point out that, yes, I am a nerd...
... And lovin' it! Peace!