Bounce! Update: Transport and Menus
Level Transportation:


Level transportation has been done pretty much the same in any singleplayer game which is always just you finish one level go to next etc. This is great and has worked for many years but we felt as though there was too much VGUI in games these days and you need to keep pressing escape and opening up the main menu to change levels. We have just came up with a new idea in which you use Panels to restart the game set in each task, this idea is a lot easyer for the user and has a better experience in a puzzle based game.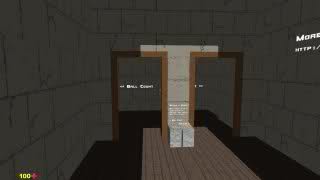 Getting Rid of the Main Menu:
We have been figuring out what makes the main menu great in games and we couldn't relaly come up with much it's easy to use but we felt as though we want to try get rid of almost all the main menus so we narrowed it down to having one big main world which you start out in and in there is stages which you go through sorta like a muesum and you go through each door which will lead to a level.
Example: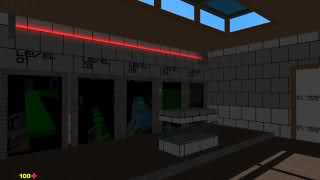 This idea is great as there isn't many games anymore with interactive main menus were you walk around and go into portals.
Other Bits:
Bounce! is coming along really nicly with the new update totally changing all aspects of bounce! which the community has been saying isn't great and has over 20+ new fixes including FOV and Ammo Counts. We plan on giving you guys a brand new game play video hopefully end of next week and the brand new 0.7 update coming out later this month if all goes well.
Recruiting Playtesters:
We are currently in need of some playtesters which can run the other versions of the game and will be sent the svn link which you will playtest features of the game and tell us average times it has taken you to finish levels and will help in debuging stages. Email Us: the_green_machine@msn.com if you want to apply.
Thanks for reading, Hope you enjoyed.
Spread The Word about Bounce! and Watch Us