The v1.5 of the Mod is ready for download now from ModDB.com, enjoy !
The big hit of this version is the integration of the Clan Quest Mod v2.0 of Burgermeister01, adding some ten brand new quests as well as 2 new cut scenes !
Some interesting stuff from the Camarilla Edition v1.3 of zer0morph have also been added to this version of theMod, like the automatic blood loss or the upgradeable Bloodhealing discipline.
But, rather than explaining you here all what it is about, I suggest you to check the full colour 70+ page documentation, on line too, if you like to have more information on the mod before downloading it.
BE AWARE, This is for the FRENCH VERSION of Vampire Bloodline, so if you install it over an English version, all dialogues and game screens will turn to French.... So you need to understand French to use this Mod.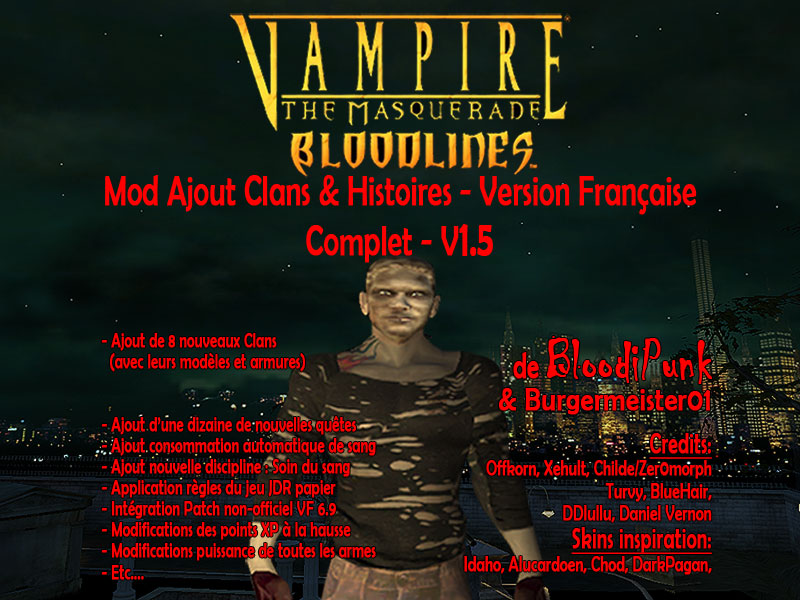 La v1.5 du Mod est en téléchargement maintenant !
La grande nouveauté de cette version est l'intégration du Clan Quest Mod v2.0 de Burgermeister01, ajoutant ainsi une dizaine de toutes nouvelles quêtes et 2 nouvelles scénettes vidéo !
Quelques options intéressantes du Camarilla Edition v1.3, de zer0morph, ont aussi été intégrées dans cette version du Mod, comme la consommation de sang automatique ou le Soin du Sang a plusieurs niveaux...
Mais Plutôt que de vous expliquer complètement de quoi il est question je vous suggère de consulter la documentation en couleur de plus de 70 pages, en téléchargement aussi, si vous souhaitez plus de détails sur ce Mod avant de le télécharger.