What's new?
Hello everyone! Kunoi's Kickstarter is going strong with just under two weeks to go! To get the full game it is only $3.00! I've spent all week talking with some really cool people about Kunoi! Read on!
Press
Chris White over at Wethenerdy.com gave a short review on the Kunoi demo, and asked me a few questions behind the development of Kunoi!
"Kunoi is a game that brings back floods of memories from my childhood; the aesthetics, the soundtrack and the game play all remind me of being that seven year old kid sitting in his dining room on the NES, running through Super Mario Bros. and immersing myself in its charm. I've played the demo and it feels and looks very much like those old Nintendo games; the screenshots of the game are looking like they are taken straight from the golden age of gaming and I for one am looking forward to the finished project."
For the full interview, click here!
Carl Williams of Retrogamingmagazine.com also had some nice things to say!
"Endless running games are quite the "thing" in the mobile world. For the most part, they have not really taken off on computers, where the first person shooter (FPS) is king. Kunoi isn't looking to attempt to change that, though there are some running game elements here they are not front and center. No, front and center is the graphics and sounds that scream early 90's Sega Genesis. Kunoi doesn't skimp on the action and challenge, you won't be "one lifting" this one."
For the full review, click here!
Brand new screenshots!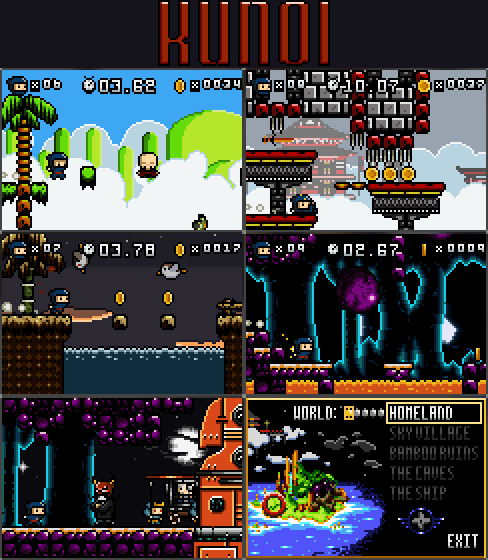 New Footage

(Game play, music, and game mechanics.)
Kickstarter

Less than two weeks left on the Kunoi Kickstarter. Please go by and donate! Only $3.00 for the full game!
Kickstarter.com
Any support and love is much appreciated! Thank you!
As always please don't forget to follow/ watch myself and Kunoi!
Twitter: Twitter.com
Facebook: Facebook.com
Cheers!
-Jay