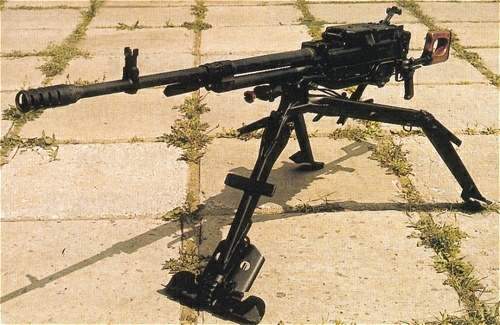 Kord 12.7 6P50 heavy machine gun
Hello everyone, im posting you some informations, images and videos about this great machine gun.
Caliber: 12,7x108 mm
Weight: 25 kg (gun body) plus 16 kg (6T7 tripod) or 7 kg (6T19 lightweight mount with bipod)
Length: 1980 mm
Length of barrel: no data
Feeding: belt 50 rounds
Rate of fire: 650-750 rounds/min
KORD

12.7 mm machine-gun

It is designated for the defeat of lightly armoured targets, fire installations and living force of enemy at the distances of up to 1500-2000m and for the defeat of air targets at slant distances of up to 1500m.


Ammunition:

12.7 mm cartridges with armour-piercing-incendiary and armour-piercing-tracer bullets;
metallic link is used for the belt filling.


Design Execution:

type of fire is by salvos, single-shot fire is ensured by abrupt action on the trigger lever;
sight is of the open type, mechanical for 2000 m;
the machine-gun is equipped with the bracket for the mounting of optical and night sights;
left or right feed of the belt. Three important design problems have been resolved in the course of creating the machine gun:
the automation mechanisms reduce influence of the barrel which prevented resonance oscillation of the barrel and enhanced its accuracy;

recoil energy has been reduced and the machine gun stability has been increased which made it possible to develop a bipod mounted KORD gun for infantry;

the barrel life has been considerably increased and provision has been made for fitting automatic large calibre small arms with one barrel type.
The KORD tank mounted machine gun with an electric release is a basic variant. It can be installed on various moving and stationary objects for fighting low flying aerial threats, for destroying lightly armoured and unarmoured materiel, weapons, and concentrated enemy personnel at ranges up to 2,000 m.The machine gun design ensures high grouping and accuracy of fire in a wide sector of traverse and elevation. It has an open type of iron sight and a device for fitting an optic and night sight.The propitious engineering and design decisions along with manufacturability gave the KORD machine gun effective combat performance and ease of maintenance. It differs from its counterpart in:
high reliability of operation at environment temperature of ± 50° C, in dusty conditions, after immersion in water, without cleaning and lubricating for a number of days, in case of icing and in other adverse operating conditions;

the trouble-free operation and the capability to conduct intense fire without additional cooling of the barrel and with retention of aiming accuracy;

consistent grouping, accuracy and rate of fire throughout the entire service life of the weapon;

ease of maintenance and the capability to rectify faults by the crew in course of combat employment with the aid of individual SPTA; high reparability of the machine gun at troops' facilities.
The KORD machine gun's attractive feature to the troops is the similarity of its weight, size and connection parameters with those of the "Utyos" (NSV-12.7 mm) machine gun. This allows to replace the latter without adjustment in all machine gun complexes. It's worth noting that in terms of main characteristics the KORD exceeds by far its predecessor.For aimed firing, KORD can be installed complete with a machine gun mount and supportion all automotive or armoured vehicles, on helicopters, sea vessels, and railroad cars. If necessary, it can be easily removed from the installation for use in troops formations to support them with fire in all types of operations. When placed on combat vehicles, the machine gun design allows to secure the ammunition box on its hinges, to fasten the machine gun in the "combat configuration", to collect or deflect spent cases, to collect the belt links, to bring the machine gun into the carrier through its hatch or door for placing on a mount.KORD provides effective firing from any position of the fire on a prepared or unprepared firing emplacement, from buildings, moving or standing vehicles. The relatively small weight and the capability to rapidly convert the weapon from travelling to combat configuration enable the crew to change quickly their firing positions for enhanced survivability, unexpectedness and effectiveness of fire.Around 22 countries manufacture now 12.7x99 mm NATO cartridges. On this basis, KORD machine gun has been developed in all above described variants using those cartridges. The performance and maintenance specifications of the gun did not change despite changes in the design decisions of the barrel and feeding mechanism. 12.7 mm "Kord" tank mounted machine gun 6P49

Overall dimensions (length x width x height): 1625 x 135 x 215
weight, kg: 27
12.7 mm "Kord" infantry machine gun 6P57 on the bipod 6T19

Overall dimensions (length x width x height): 1980 x 450 x 500 (in horizontal position)
weight, kg: 32


The bipod 6T19 12.7 mm "Kord" machine gun 6P58 on the mounting 6U16

Overall dimensions (length x width x height): 1980 x 810 x 450
weight, kg: 60


The mounting 6U16 12.7 mm "Kord" machine gun 6P59 on the mounting 6U16 and stand SP

Overall dimensions (length x width x height): 1980 x 810 x 1625 (adjusted)
weight, kg: 80


The mounting 6U16 and stand SP



Sources: World.guns.ru Zid.ru